Web Design Directory
Parallel Cable - The Legacy Peripheral Connection

Internetworking and Related, Health Care and Insurance, Software and TeleCom
Many of the online directories focus towards one market segment or audience profile. Here, we target the "best in class" for each of the served markets by industry leaders in their respective fields. Find a category that you feel is most relevant to the content of your site, or that attracts a customer demographic you wish to reach. Provide a title and URL and submit to this directory.
Corporate Business
Business web directory and online Internet marketing center, offering powerful promotion opportunities to your business and website. Maximize traffic to your website by submitting to the directory. Categorized in 7 main groups, including Consulting, Manufacturing, Internet Services, Professionals, Health, Pharmaceutical, Software & Telecommunications and Transportation.
Business Consulting
enter
Internetworking & Related
Health Care & Insurance
Software & Telecommunications
Internetworking & Related
Health Care & Insurance
Software & Telecommunications
business directory | corporate, financial & education directory | real estate & search engine directory | manufacturing directory | software, non-profit & retailers directory
company directory
On many legacy peripherals, the parallel cable utilized both the 25 pin Sub-D connector and the 36 pin Centronics connector. This was a common printer interface and is still in service in great numbers.
With the advent of "intelligent" laser and ink jet printers, the IEEE-1284 bi-directional printer cable was introduced. This parallel interface allows for bi-directional communication resulting in speeds up to 10 times faster than conventional cables.
Built for Reliability and Durability
All our parallel cables feature 28 AWG copper conductors, molded PVC shells and thumbscrews for durability.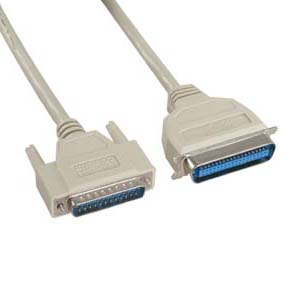 IEEE-1284 bi-directional
Multiple connector options
28 AWG copper conductor
Molded PVC hoods and jacket
Thumbscrews for easy connection
Choose your product from the left menu to view more details.
Purchase Direct and Save
For computer and networking cables, Warehouse Cables is your direct source for quality, selection and value!