USB Cable
USB Cable - The Standard for Connecting Computer Peripherals
USB cable connections were designed to replace conventional serial and parallel ports. They are found on just about anything: keyboards, mice, joysticks, telephones, scanners, printers, microphones, speakers, floppy drives, cameras, modems, CD-ROM drives and more.
Extended Length USB
USB cables are designed to operate at a maximum distance of 5 meters (16 feet). Fortunately, there are "active extension" and repeater devices which can extend this distance to 80 feet and more. Combined with a USB hub, connection of multiple USB devices has never been easier.
It's All in the Connector
USB cables and devices utilize three common types of connectors. The Type A "flat" connector connects to the host computer or an upstream hub. The Type B and mini B "house" shaped connectors attach downstream to the USB device such as a printer, camera, etc.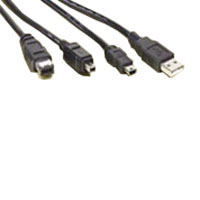 Whether you need to connect printers, cameras or a network drive, Warehouse Cables has the USB cable you need, at an affordable price!
Choose your product from the left menu to view more details.
Purchase Direct and Save
For computer and networking cables, Warehouse Cables is your direct source for quality, selection and value!