Surge Protectors
Surge Protectors - Save or Extend the Life of your Equipment
When it comes to computers and electronics, one piece of standard equipment you'll want to own is a surge protector. They let you plug multiple components into one power outlet but most importantly, protect your equipment from surges in power.
The most familiar source of power surges or "spikes" is probably lightning, though it's actually one of the least common causes. Other sources of include faulty wiring, problems with the utility company's equipment and downed power lines. When an unexpected power surge occurs, surge protectors help to prevent that problem from destroying your equipment.
Protection for both Electrical and Data Connections
Surge protectors are available in a variety of configuration. Look for the features that you need most including outlet type and position, phone and cable connections, EMI/RFI noise filtering.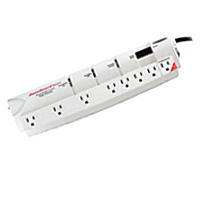 Whether you're doing new installations or upgrading your existing infrastructure, Warehouse Cables has the surge protectors you need, at an affordable price!
Choose your product from the left menu to view more details.
Purchase Direct and Save
For computer and networking cables, Warehouse Cables is your direct source for quality, selection and value!