Cable Connectors
Cable Connectors for Network and Telecomm
Our modular crimp style RJ45 connectors are ideal for use with Unshielded Twisted Pair (UTP) and Shielded Twisted Pair (STP) cable used for data networks such as Ethernet. Simple 1-piece construction features 50µ gold plated contacts to insure a low NeXT connection at the patch panel or network card.
Find The Connectors You Need Fast
Our RJ45 connector design allows for easy insertion while maintaining proper twist requirements. For voice applications our RJ11, RJ12 and RJ45 Telco connectors are perfect for flat cordage cables. Our rugged molded D-Sub connectors are a common cable connector used in many computer, audio/video, and data applications.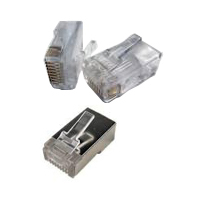 Whether you're doing new installations or upgrading your existing infrastructure, Warehouse Cables has the connectors you need, at an affordable price!
Choose your product from the left menu to view more details.
Purchase Direct and Save
For cable and connectors, Warehouse Cables is your direct source for quality, selection and value!