Fiber Optic Patch Cable
Fiber Jumpers for Performance and Security
If the demand for more bandwidth is putting a constant strain on your Local Area Network, fiber optics may be the answer. Fiber optic patch cable offers the best mix of capacity, security and reliability, without the worry of electrical interference. Our large inventory of standard length cables can get you up and running fast!
Solutions for NAS, SAN and LAN Distribution
When it comes to Network Attached Storage, a Storage Area Network or backbone connectivity to LAN layers, Warehouse Cables has the fiber jumpers and trunk cabling you need. Our laser-optimized OM3 fiber cables are the perfect solution for fast, Gigabit transmission speeds.
Custom Cables Built to Specification
Why terminate in the field when Warehouse Cables can provide a custom solution fast and affordable. We can build trunk and multi-fiber break-out cables which are factory built, tested and certified...ready to go! Ask about our custom built fiber cable assemblies.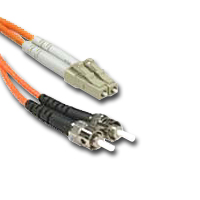 Whether you're doing new installations or upgrading your existing infrastructure, Warehouse Cables has the fiber optic patch cable and assemblies you need, at an affordable price!
Choose your product from the left menu to view more details.
Purchase Direct and Save
For computer and networking cables, Warehouse Cables is your direct source for quality, selection and value!