Cable Tester
Multi-Purpose Cable Testers - Don't Guess It...Test It!
Use our cable testers to quickly verify individual patch cords or even network sub-routings. It's easy to verify cables for continuity, open, short, mis-wiring, distance and so much more!
A Whole New Family of Cable Testers
Check out our new line of LAN and Network Cable Testers. These instruments were selected for their ease of use and advanced features, at a surprisingly affordable price!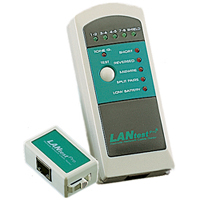 Whether you're doing new installations or upgrading your existing infrastructure, Warehouse Cables has the cable tester you need to simply get the job done!
Choose your product from the left menu to view more details.
Purchase Direct and Save
For computer and networking cables, Warehouse Cables is your direct source for quality, selection and value!