HDMI Cable
HDMI Cable - High Definition Multimedia Interface
HDMI cable combines video and multi-channel audio into a single cable, eliminating the cost, complexity, and confusion of multiple cables currently used in A/V systems. HDMI cable provides an interface between any audio/video source, such as a set-top box, DVD player, or A/V receiver and an audio and/or video monitor, such as a digital television (DTV), over a single cable.
The New Standard in Multimedia Interconnect
The HDMI connection ensures an all-digital rendering of video without the losses associated with analog interfaces and their unnecessary digital-to-analog conversions. HDMI cable has the capacity to support existing high-definition video formats (720p, 1080i, and even 1080p). It also has the flexibility to support enhanced definition formats such as 480p, as well as standard definition formats such as NTSC or PAL.
DVI Compatibility
HDMI is fully backward-compatible with DVI using the CEA-861 profile for DTVs. HDMI DTVs will display video received from existing DVI-equipped products, and DVI-equipped TVs will display video from HDMI sources.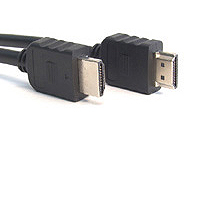 Whether you're installing new systems or upgrading your existing equipment, Warehouse Cables has the HDMI cables you need, at an affordable price!
Choose your product from the left menu to view more details.
Purchase Direct and Save
For computer and networking cables, Warehouse Cables is your direct source for quality, selection and value!