Cat 6 Cable
Perfect for Dependable Network Connections
Our Cat 6 cable is ideal for your voice, data, video and security network installation where extra bandwidth makes the difference. This popular cable meets or exceeds the EIA/TIA 568B performance requirements for Cat 6 cable.
Performance Rated Cat 6 Cable
Each cable is tested up to 500 MHz and is perfect for use with a 10/100Base-T, 1000Base-T and 10GBase-T high speed Ethernet network installation. Our Cat 6 cables are constructed with quality US made components and performance tested. That's why each and every cable is backed with the confidence of a lifetime performance guarantee! Choose from a variety of colors for easy identification.
Shielded Cable (STP) vs Unshielded Cable (UTP)
Cat 6 cables are most commonly utilized with unshielded twisted pairs (UTP). However, environments with large motors, generators, and certain types of high-voltage lighting are major sources of Electromagnetic and Radio Frequency Interference (EMI/RFI). In these applications, shielded twisted pair (STP) cable will help protect data signals when connected properly. Call us to discuss your application!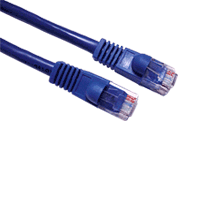 Whether you're doing new installations or upgrading your existing infrastructure, Warehouse Cables has the Cat 6 cable you need, at an affordable price!
Choose your product from the left menu to view more details.
Purchase Direct and Save
For computer and networking cables, Warehouse Cables is your direct source for quality, selection and value!