Internetworking and Related, Health Care and Insurance, Software and TeleCom
Many of the online directories focus towards one market segment or audience profile. Here, we target the "best in class" for each of the served markets by industry leaders in their respective fields. Find a category that you feel is most relevant to the content of your site, or that attracts a customer demographic you wish to reach. Provide a title and URL and submit to this directory.
Corporate Business
Business web directory and online Internet marketing center, offering powerful promotion opportunities to your business and website. Maximize traffic to your website by submitting to the directory. Categorized in 7 main groups, including Consulting, Manufacturing, Internet Services, Professionals, Health, Pharmaceutical, Software & Telecommunications and Transportation.
Business Consulting
enter
Internetworking & Related
Health Care & Insurance
Software & Telecommunications
Internetworking & Related
Health Care & Insurance
Software & Telecommunications
business directory | corporate, financial & education directory | real estate & search engine directory | manufacturing directory | software, non-profit & retailers directory
company directory
CyberDesk is a Windows 95/98 and NT 4.0 personal communications manager dedicated to Business Mobile Users. The package includes the PhoneRider board and drivers along with CyberDesk telephony application software. CyberDesk CyberDesk has received numerous industry awards (link to awards) and is considered in the top tier of personal communications managers for features, ease of use, and voice quality. Using MS-Exchange for Windows 95/98, CyberDesk allows the user to access all voice mail, e-mail and fax headers in one place - the "Inbox".
Desktop Features
Superior handset/headset management

Full duplex speaker phone

Voice Mail

Conferencing

Logging

Play and Record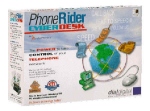 Remote Features
Message notification - when the mailbox reaches a pre-defined number of incoming messages (voice mail, e-mail, and faxes), CyberDesk can be configured to automatically call the user at the remote number and read, play or forward the messages.

Remote voice reply - reply to an incoming e-mail with a return voice mail message. The sender will receive a message containing a .wav file response.

Forward e-mail and fax documents to any fax machine.

Callback - Using the Callback feature a user calls CyberDesk and requests a call back. CyberDesk will make a return call to any phone number enabling a session where the user has access to all CyberDesk functions - without paying high telephone rates charged by hotel or other pay phones. CyberDesk can be commanded to place outgoing calls from the home PC as well and bridge the remote user with the called number. This requires call transfer service or a PBX.

One-number Follow Me - Utilizing a call transfer service or a PBX, CyberDesk will forward all incoming calls to any phone number after answering and playing a welcome message. The remote number can be programmed from any phone, anywhere. The user has the option of either accepting the call or sending it to voice mail. If accepted, the call is connected transparently to the caller.
Microsoft Outlook Extention
A CyberDesk extension for Outlook is a small plug-in that installs on top of CyberDesk and Outlook to integrate both applications together enabling the following functions:
Call contacts in Outlook with a click

Utilize caller ID to automatically find and open a contact or create a new one

Log calls into the Outlook journal

Record the conversation (with the caller's permission, of course) and save it in the journal.