Published November 2004
$100.00 plus S&H
$85.00 for members of the Academy of Laser Dentistry
Recommended reading by the Academy of Laser Dentistry
Includes searchable PDF version on CD-ROM, with color product photos
Includes one-year subscription to DAAL Update on-line newsletter


Internetworking and Related, Health Care and Insurance, Software and TeleCom
Many of the online directories focus towards one market segment or audience profile. Here, we target the "best in class" for each of the served markets by industry leaders in their respective fields. Find a category that you feel is most relevant to the content of your site, or that attracts a customer demographic you wish to reach. Provide a title and URL and submit to this directory.
Corporate Business
Business web directory and online Internet marketing center, offering powerful promotion opportunities to your business and website. Maximize traffic to your website by submitting to the directory. Categorized in 7 main groups, including Consulting, Manufacturing, Internet Services, Professionals, Health, Pharmaceutical, Software & Telecommunications and Transportation.
Business Consulting
enter
Internetworking & Related
Health Care & Insurance
Software & Telecommunications
Internetworking & Related
Health Care & Insurance
Software & Telecommunications
business directory | corporate, financial & education directory | real estate & search engine directory | manufacturing directory | software, non-profit & retailers directory
company directory
Dental Applications of Advanced Lasers (DAAL™) is written to help dentists understand new laser technology and keep up-to-date on laser products and accessories intended for dental applications. It includes tutorial sections on lasers, laser-tissue interactions, and laser delivery systems, and on the various laser technologies used in dentistry today. DAAL is on the Academy of Laser Dentistry's (ALD) recommended reading list and its tutorial sections help laser dentists prepare for ALD-sanctioned certification exams.

DAAL also provides detailed descriptions of commercially available dental laser products, including information on product performance, features, and accessories. Laser list price information is also included if available. A directory of laser manufacturers provides contact information so readers can get additional information.

A one-year subscription to DAAL™ Update on-line newsletter is included in the purchase price of DAAL. DAAL Update is an electronic newsletter that provides information similar to that in DAAL itself (new tutorials, in-depth reports on new applications, product updates, etc.), but in the interim between annual updates of the DAAL print version.
Table of Contents for DAAL-2004
Section 1: Medical Laser Tutorial
Laser energy and biomedical work
1-1
Lasers as energy and power conversion devices
1-2
Basic components of a lase
1-3
Solid-state, liquid dye, and gas lasers
1-3
Optical pumping
1-4
Solid-state laser media
1-5
Laser wavelengths and wavelength versatility
1-7
Nonlinear wavelength conversion
1-8
Laser beams
1-9
Temporal emission modes: pulsed vs. CW lasers
1-10
Pulse duration, pulse rate, peak power, average power
1-11
Quasi-CW operation: single-pulse, chopped, super-pulsed
1-13
Pulsed modes: free-running, Q-switched, mode-locked
1-16
Semiconductor diode lasers
1-18
Diode-pumped solid-state lasers (DPSSL's)
1-19
Fiber lasers
1-20
Basic aspects of medical laser products
1-21
Section 2: Laser-Tissue Interactions Tutorial
Laser Therapy and Procedures
2-1
Basic types of laser-tissue interactions
2-3
Photothermal
2-3
Photoacoustic
2-3
Photochemical
2-3
Photodynamic
2-3
Biostimulation
2-3
Laser irradiation of tissue
2-4
Absorption and absorption depth
2-4
Scattering
2-5
Penetration depth
2-5
Irradiated volume
2-5
Fluorescence
2-6
Photothermal interactions, effects, and therapy
2-7
Laser hyperthermia
2-7
Laser thermal keratoplasty
2-7
Tissue welding
2-7
Coagulation, necrosis, and hemostasis
2-8
Vaporization and cutting
2-8
Vaporization with pulsed vs. continuous-wave lasers
2-10
Surgical precision and control
2-10
Lasers as bloodless scalpels
2-12
Selective photothermolysis
2-11
Photochemical interactions and ablation
2-13
Photodynamic Effect and Photodynamic Therapy (PDT)
2-13
Photodisruption Interactions, Effects, and Therapy
2-14
Membranectomy
2-15
Lithotripsy
2-15
Ablation of calcified tissue
2-15
Tumor disruption
2-15
Biostimulation and Pain Relief
2-15
Biomedical Molecules, Tissues, and Materials
2-17
Water
2-17
Hemoglobin and blood
2-18
Melanin
2-18
Xanthophyll
2-19
Carbon
2-19
Collagen
2-20
Soft tissue
2-20
Blood vessels
2-20
Cartilage
2-20
Bone
2-21
Dental tissue
2-21
Atherosclerotic plaque
2-21
Calculus (stones)
2-22
Section 3: Medical Laser Delivery Systems
Beam transfer hardware
3-1
Articulated arms
3-1
Optical fibers
3-3
Hollow waveguides
3-4
Beam application devices
3-5
Fiber handpieces
3-5
Hollow waveguides
3-5
Micromanipulators
3-6
Hollow probes
3-6
Arms vs. waveguides vs. fibers
3-6
Scanning delivery systems
3-9
Visualization devices or modalities
3-9
Endoscopes
3-9
Surgical microscopes
3-10
Other visualization / guidance methods
3-11
Section 4: Optical Fiber Delivery Systems
Bare fiber basics
4-1
Contact versus non-contact use of bare fibers
4-3
Hot-tip fibers
4-4
Cool-tip fibers
4-4
Hot-tip versus cool-tip fibers
4-4
Infrared (IR) fibers
4-5
Section 5: Clinical Laser Applications in Dentistry / Oral Surgery
A brief history of the use of lasers in dentistry
5-1
Technical considerations regarding dental laser use
5-2
Surgical precision
5-2
Contact vs. non-contact use of laser delivery
5-3
Dental tissues and laser wavelengths
5-4
Pulsed vs. CW lasers
5-5
Critical pulse rate, active tooth cooling
5-6
Hot-tip fibers
5-7
Hemostasis
5-8
Bactericidal action
5-8
Anesthesia requirements
5-9
Dental laser delivery systems
5-9
Lasers used in dentistry and oral surgery
5-12
Argon lasers
5-12
Carbon dioxide lasers
5-12
Diode lasers
5-13
Erbium lasers
5-13
Holmium lasers
5-14
Nd:YAG lasers, pulsed
5-14
Soft-tissue applications
5-15
Soft-tissue management with lasers
5-17
Gingivoplasty/gingivectomy
5-17
Biopsy
5-17
Gingival troughing
5-17
Crown lengthening
5-17
Subgingival curettage
5-17
Operculectomy
5-17
Frenectomy
5-17
Aphthous ulcers
5-18
Leukoplakia
5-18
Open pocket elimination
5-18
Tuberosity reduction
5-18
Vestibuloplasty
5-18
Implant recovery
5-18
Laser-ANAP
5-18
Hard-tissue applications
5-19
Laser-induced analgesia and tooth desensitization
5-19
Caries removal
5-19
Cavity preparation
5-20
Enamel etching
5-20
Erbium lasers for hard-tissue dentistry
5-20
Pit and fissure therapy
5-22
Removal of amalgams and composites
5-22
Endodontic therapy
5-22
Bone applications and apicoectomy
5-22
Argon laser curing
5-23
Blue LEDs for curing
5-24
Laser tooth whitening
5-24
Caries detection
5-24
Potential applications
5-25
Caries prevention
5-25
More endodontic applications
5-25
Tartar removal
5-26
Crown lengthening with bone removal
5-26
Apicoectomy with other lasers
5-26
Root extraction
5-26
Stimulation of new bone growth
5-26
References
5-27
Suggested reading
5-28
Section 6: Argon Lasers
Argon laser technology
6-1
Section 7: Carbon Dioxide Lasers
Carbon dioxide laser technology
7-1
Table: Dental carbon dioxide laser product summary
7-6
Deka: Smart US20 D
7-7
OpusDent: NovaPulse LX-20SP, Opus Duo
7-9
Section 8: Semiconductor Diode Lasers
Diode laser technology
8-1
Table: Dental diode laser product summary
8-5
BIOLASE: DioLase Plus, LaserSmile
8-6
Biolitec: SmilePro 980, SmilePro 810
8-10
HOYA ConBio: DioDent
8-13
Deka: Smarty A800 / A900
8-15
Ivoclar: Odyssey, bluephase
8-17
KaVo: DIAGNOdent
8-21
OpusDent: Opus 5, Opus 10
8-23
ZAP Lasers: SoftLase Hygiene, SoftLase Dental
8-26
Section 9: Erbium Lasers
Erbium laser technology
9-1
Table: Dental erbium laser product summary
9-6
BIOLASE: Waterlase YSGG, Waterlase MD
9-7
HOYA ConBio: DELight
9-12
Deka: Smart 2940d
9-15
Fotona: Fidelis Er, Fidelis Er II, Fidelis Plus
9-17
OpusDent: OpusDuo EC, OpusDuo E
9-22
Section 10: Holmium Lasers
Holmium laser technology
10-1
Section 11: Nd:YAG Lasers, Pulsed
Pulsed Nd:YAG laser technology
11-1
Table: Dental pulsed Nd:YAG laser product summary
11-6
Deka: Smarty-A10, Smartfile, Smartlite
11-6
Fotona: Fidelis Nd, Fidelis Plus II
11-10
Incisive: InPulse
11-14
Lares Research: PowerLase ST6
11-16
Millennium Dental: PerioLase MVP-7
11-19

Appendix A: Directory of Manufacturers (2 pages)

Appendix B: Lasers vs. Electrosurgery (8 pages)


---
Samples passages from DAAL-2004
Sample passage from Section 1: Medical Lasers Tutorial

Laser energy and biomedical work

Light bulbs and lasers both generate light, which is the common name for electromagnetic energy we can see. However, as will be discussed in more detail below, the special characteristics of laser light render it much more useful for medical and other applications.

Energy is the ability to do work. Light or electromagnetic energy is but one form of energy, with other forms being heat, chemical energy, nuclear energy, mechanical energy, and electrical energy. Examples of biomedical work that can be done with laser energy include: raising the temperature of biological tissue until it is cooked or vaporized, mechanically breaking apart kidney stones, and causing specific biochemical reactions to occur in tissue.

A frequently used unit of energy is the Joule (J). To give an idea of how much work can be done with 1 Joule of energy, consider that about 2500 Joules are required to heat and convert 1 cubic centimeter of water (about the size of a sugar cube) at body temperature (98.6°F) into steam at 212°F; that is, to completely boil it away as steam. This example is particularly relevant to laser surgery applications, where it is often the objective to remove biological tissue, which is mostly water, by converting it into steam or vapor. Converting tissue into vapor, or vaporizing it, allows tissue to be removed by vacuuming it away with a handheld suction instrument.

Another unit of energy commonly used in laser parlance is the milliJoule (mJ), which is one thousandth of a Joule. It is used when low energies are being discussed, so as to avoid the use of decimals. For example, a laser energy of 0.540 J can also be expressed as 540 mJ.

Power is the rate of doing work. Lasers that generate more power, or energy per unit time, are capable of doing more work per unit time than lower power lasers. Conversely, higher power lasers can do the same amount of work in less time than less powerful lasers. In our water cube example, a more powerful laser would completely boil or vaporize the cube faster than a less powerful laser. Various units for expressing laser output power are used depending on the power capability of the laser being described. Most lasers used in laser surgery generate power levels of 1 to 100 watts, where one Watt (W) is equal to an energy generation rate of 1 Joule per second. Assuming that all of the laser light shined on our water cube could be used to raise its temperature, a 1-watt laser would vaporize the water cube in 2500 seconds (40 minutes), whereas a 100-watt laser would vaporize it in 25 seconds.
Sample passage from Section 5: Clinical Laser Applications in Dentistry / Oral Surgery

Soft-tissue management with lasers

A consensus has emerged, at least among dental laser practitioners, that lasers are valuable tools for the early interception of periodontal disease in patients who require more than a home care program. Increasingly, the Periodontal Screening and Recording system is being used by general practitioners, in conjunction with lasers, to detect and treat early gum disease before the services of a periodontist are required. Laser treatment can slow or stop the progression of periodontal disease, and provides a conservative treatment option that often has a more comfortable postoperative course compared to conventional periodontal surgery. Medically compromised patients can be treated with a laser in many instances. Local anesthesia may not be required depending on the patient and laser power level being used, among other factors. Sutures are often not required.

Pulsed Nd:YAG and diode lasers are used with bare (flat-ended) hot-tip fibers to cut or vaporize soft tissue with hemostasis. Argon lasers are also used with bare fibers, but argon lasers do not rely on hot-tip action to cut and vaporize soft tissue; fibers can be used in a contact or non-contact mode as a result. Carbon dioxide lasers are necessarily used in a non-contact mode.

Er:YAG and Er,Cr:YSGG laser fibers can be used in a contact or non-contact mode. Erbium lasers may not provide as much hemostasis as other lasers used on soft tissue, in some situations. Erbium lasers, and carbon dioxide lasers, are particularly effective for cutting and vaporizing fibrous soft tissue.

Gingivoplasty / gingivectomy - Many laser practitioners report that lasers reduce overall operating time because of reduced bleeding. It has been suggested that lasers used with small-core fibers, and perhaps with small-tip waveguides, allow easier removal of tissue between teeth compared to mechanical instruments.

Biopsy - Lasers can be used for excisional or incisional biopsies with control of bleeding and improved visualization. However, some lasers may be better than others in terms of providing minimal thermal damage at the biopsy margin, which is often desirable. Other aspects that may be of importance for biopsy procedures include the ability to easily cut through fibrous tissue, and the ability of some lasers to cut in a non-contact mode when biopsy tissue is on a movable surface, e.g., buccal or tongue surfaces
Sample passages from Section 8: Semiconductor Diode Lasers

BIOLASE Technology

BIOLASE offers Er,Cr:YSGG lasers and diode lasers for dental applications. BIOLASE recently acquired the laser-related assets of American Dental Technologies (ADT).

DioLase Plus

The DioLase Plus tm provides 7 watts of continuous-wave (cw) power (Table 8-2). Treatment wavelength is 800 to 830 nm. Emission modes include cw and gated cw. When in gated cw mode, pulse durations range from 0.02 to 9.9 seconds.

A red aiming beam is included; power is adjustable up to 3 milliwatts. The volume of the audible tone generator (sounds when laser is activated) is also adjustable. The laser does not have an integrated fiber calibration port. Multiple programmable pre-set buttons are provided for commonly used laser settings.

The laser is extremely lightweight and portable and weighs only 11 pounds. It operates from a standard 110 VAC electrical outlet and requires a maximum of 3 amps of current. The laser is air-cooled and does not have an internal water-cooling loop. The laser can be mounted in a horizontal or vertical position (to a wall, for example).

The laser is used with a bare (flat-ended) 400- or 600-micron-core fiber for contact cutting or vaporization of soft tissue. Fibers and handpieces are fully autoclavable. Fibers are reused by cleaving the fiber tip after each use and autoclaving.
Table 8-2: DioLase Plus (BIOLASE Technology)
Laser output specifications
Laser type
AlGaAs diode laser
Wavelength(s)
800-830 nm
Laser emission mode
CW
Exposure / treatment modes
Continuous, repeat pulse, single pulse
Pulse duration, ON time
0.02 – 9.9 seconds (gated cw)
OFF time
0.02 – 9.9 seconds (gated cw)
Pulse energy
Output power (average)
To 7W
Portability
Dimensions
9"W x 14"D x 3"H
Weight
11 lbs.
Electrical service
120 VAC / 3A, 240 VAC / 1.5A, 50 / 60 Hz
Cooling
Air-cooled (no internal water)
User features
Aiming beam
3 mW red diode laser (adj. power, 630-680 nm)
Auto-calibration
No
Approximate price
$13,900

The DioLase Plus is FDA-cleared for more than 25 soft-tissue procedures that involve ablating, incising, excising, and coagulating intraoral soft tissue (including marginal and interdental gingiva) using a contact fiberoptic delivery system. In addition to the "usual" ones, the DioLase Plus now has explicit FDA clearance for "soft-tissue curettage, removal of diseased, infected, inflamed, and necrosed soft tissue in the periodontal pocket, and removal of highly inflamed edematous tissue affected by bacteria penetration of the pocket lining and junctional epithelium."

Accessories and upgrades

The list price shown in Table 8-2 includes an owner's manual, three pairs of laser safety eyewear, three fibers, two autoclavable handpieces (handpieces are detachable from the fibers), a fiber stripper and cleaver for restoring bare fiber ends, and a supply of disposable handpiece tips or cannulae. A disposable cannula tip is attached to the working end of the handpiece to deflect the fiber to the desired working angle.

Purchasers of the DioLase Plus can upgrade to other BIOLASE lasers such as the LaserSmile diode laser and Waterlase erbium laser. Contact BIOLASE for the latest details.

LaserSmile

The LaserSmile™ diode laser has FDA clearances for all soft-tissue dental laser procedures (Table 8-3) and the laser is cleared for laser tooth-whitening procedures. Like other dental diode lasers, LaserSmile is extremely compact and portable and operates from a standard 110 VAC outlet. Features include a "Power-On-Demand" variable-power foot switch, an on-board fiber and handpiece management system, adjustable aiming beam power, feed-through and replaceable-tip fiber delivery accessories, and a variety of replaceable and disposable fiber tips.
Table 8-3: LaserSmile (BIOLASE Technology)
Laser output specifications
Laser type
AlGaAs diode laser
Wavelength(s)
810 nm
Laser emission mode
CW
Exposure / treatment modes
Continuous, repeat pulse, single pulse
Pulse duration
0.2 ms to 9.9 seconds
Pulse rate
Pulse energy
Output power (average)
To 10W
Portability
Dimensions
8.5" x 9" x 12.5"
Weight
13 lbs.
Electrical service
120 / 240 VAC
Cooling
Air-cooled (no internal water)
User features
Aiming beam
Red diode laser (630-670 nm), 5 mW
Auto-calibration
Approximate price
$22,900
The laser is intended for tooth whitening and soft-tissue oral surgery. The LaserSmile™ tooth whitening system includes the laser, an autoclavable "arched" photon handpiece for simultaneous illumination of multiple teeth, and an initial supply of photon-activated gel and gingival cover formula. BIOLASE indicates that the LaserSmile™ system is royalty-free; all revenues are retained by the dentist.

A clinical study performed with the LaserSmile tooth whitening system was reported recently [J Cosmetic Dentistry Vol 19, No, 2: 70-73]. Whitening by an average of 9 shades was achieved with an average (total) treatment time of 24 minutes, compared to 60 minutes for leading non-laser methods. BIOLASE indicates that shorter chair time, along with low per-patient kit costs (no royalties), results in a significantly shorter payback time for the equipment.

LaserSmile has FDA clearances more than 25 soft-tissue procedures that involve ablating, incising, excising, and coagulating intraoral soft tissue (including marginal and interdental gingiva) using a contact fiberoptic delivery system. LaserSmile and DioLase Plus recently received explicit FDA clearance for soft-tissue curettage, removal of diseased, infected, inflamed, and necrosed soft tissue in the periodontal pocket, and removal of highly inflamed edematous tissue affected by bacteria penetration of the pocket lining and junctional epithelium.

Other BIOLASE-suggested and FDA-cleared applications include: gingival troughing, sulcular debridement, gingivectomy/gingivoplasty, gingival excision and incision, hemostasis, excisional and incisional biopsies, exposure of unerupted teeth, fibroma removal, frenectomy and frenotomy, implant recovery, incision and drainage of abscesses, leukoplakia, operculectomy, oral papillectomies, pulpotomy, pulpotomy as an adjunct to root canal therapy, reduction of gingival hypertrophy, crown lengthening, and treatment of aphthous ulcers.

Training and support

A full day of clinical training is included in the purchase price of all BIOLASE lasers. Training for BIOLASE products may also be obtained through the World Clinical Laser Institute (WCLI), which offers three-day clinical symposia four times a year throughout the world. Training DVDs, booklets, and other training tools can be obtained from third parties.

The standard warranty on BIOLASE products is one year on parts and labor. Service contracts can be purchased for coverage after the initial warranty period.

Web site

The BIOLASE web site provides "3D tours" for its LaserSmile (diode) and Waterlase (erbium) products. The viewer can rotate the products in three dimensions so that all sides of the product can be seen easily. Color photos show the basics of the LaserSmile tooth whitening procedure, and the dramatic before and after results that can be achieved.



BIOLASE Technology
981 Calle Amanecer
San Clemente, CA 92673
888-424-6527
www.BIOLASE.com

LaserSmile (BIOLASE)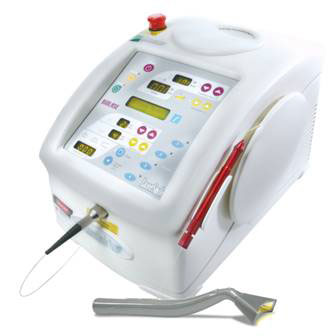 DioLase Plus (BIOLASE)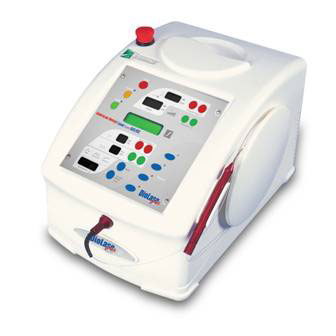 Biolitec

Biolitec, a division of CeramOptec, offers diode-based laser products for use in a variety of surgical specialties, including dentistry, general surgery, dermatology, and ophthalmology.

SmilePro 980

The SmileProtm 980 is a 15-watt, 980-nm diode laser intended primarily for dental and oral surgery applications (Table 8-4). Laser power can be applied to tissue in a continuous mode or in a repeat-pulse mode with selectable pulse parameters. Power can be adjusted in 1W increments from 1 to 15 watts. The laser operates from a standard 110-volt outlet and is air-cooled (no internal water). A red aiming beam is provided.
Table 8-4: SmilePro 980 (Biolitec)
Laser output specifications
Laser type
InGaAs diode laser
Wavelength(s)
980 nm ± 20 nm
Laser emission mode
CW
Exposure / treatment modes
Continuous, repeat pulse
Pulse duration (On times)
(0.1 to 99.9 ms)
Pulse rate (OFF times)
(0.1 to 99.9 ms)
Pulse energy
Output power (average)
1 to 15W, in 1W increments
Portability
Dimensions
9"W x 14"D x 7"H
Weight
15 lbs.
Electrical service
120 / 240 VAC
Cooling
Air-cooled (no internal water)
User features
Aiming beam
Red diode laser (635 nm, 4 mW)
Auto-calibration
No
Approximate price
$25,000

Unlike most other surgical diode lasers offered today, which are AlGaAs diode lasers having a nominal wavelength of 800 nm, the SmilePro 980 employs indium gallium arsenide (InGaAs) diode lasers that generate a nominal wavelength of 980 nm. Biolitec indicates that the 980 nm wavelength is absorbed 8 times more strongly in soft tissue than 810 nm, and 3 times more than 1064 nm (Nd:YAG). As a result, the company claims, their 980 nm lasers do not operate as a hot-knife when cutting soft tissue, but instead, laser energy is absorbed directly by the water and hemoglobin components of tissue. Biolitec claims this results in noticeably better surgical precision (reduced collateral thermal injury) when cutting soft tissue compared to lasers that rely primarily upon hot-tip fiber action.

The SmilePro 980 is described in its product literature as a "maintenance-free" laser, in that it has no moving parts and requires no optical or other alignments. The laser is mailed back to the plant when repairs are needed. The SmilePro 980 does not have a fiber-calibration port that directly measures/corrects power delivered through the fiber. However, Biolitec indicates the laser does incorporate "real-time calibration," such that laser power (into the fiber, and reflected from the fiber) is measured 25 times per second, and automatically adjusted.

The laser's standard warranty is 1 year on parts and labor, with an additional 3 years on the diode laser components. Biolitec indicates that a free loaner unit will be provided by 8:30 AM the following day when laser repairs are needed in the warranty period.

Biolitec believes the laser to be so reliable and maintenance-free that the company does not offer a service contract outside the warranty period. Instead, if repairs are required after the warranty period, Biolitec will provide a quote to repair the laser and provide a new warranty.

SmilePro 810

Biolitec also offers the SmilePro 810™ for dental/oral surgery. This laser is identical to the SmilePro 980, except for wavelength (810 nm instead of 980 nm), and has the same FDA clearances. List price is also the same.

Training and support

Leasing for the SmilePro is offered through GE Capital Corp. and Media Capital Associates. A typical leasing arrangement is $560/month for five years, with no money down.

Fiber accessories available for use with the SmilePro have core sizes ranging from 200 to 1000 microns. Fibers cost the user about $175, and typically achieve 100 or more uses by recleaving the working tip (and sterilizing) after each use. Fully autoclavable, detachable handpieces are provided that employ disposable plastic tips (tips cost about 2 cents each) to direct the fiber tip at tissue.

The company offers several programs to help SmilePro owners achieve maximum benefit from using their lasers. Laser training is provided in several settings, including educational seminars offered by the Center for Dental Laser Education. These seminars are free for SmilePro owners.

Something to Smile About is a marketing kit provided by Biolitec that includes patient brochures, press-release copy, and camera-ready ads to help market one's SmilePro 980 practice.

Biolitec plans to soon make available its Community of Friends forum to customers. This will be an internet-based forum in which SmilePro users can share their expertise and knowledge, and in which new users can seek advice from experienced practitioners.



Biolitec / CeramOptec
515 Shaker Road
E. Longmeadow, MA 01028
413-525-0600
www.biolitec.com


SmilePro 980 (Biolitec)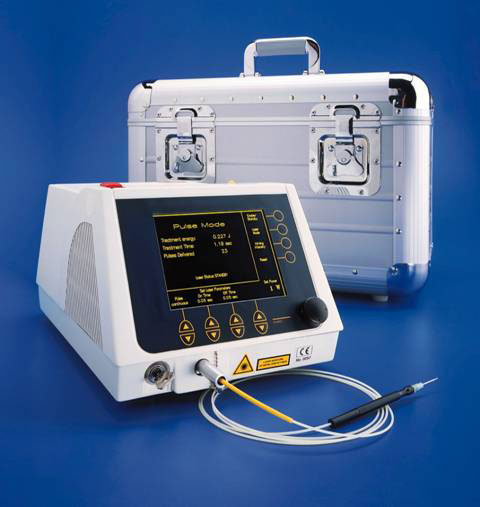 (See included CD for color photos of products)