Contract Manufacturing, Distribution, High Technology, Materials and Heavy Equipment
Many of the online directories focus towards one market segment or audience profile. Here, we target the "best in class" for each of the served markets by industry leaders in their respective fields. Find a category that you feel is most relevant to the content of your site, or that attracts a customer demographic you wish to reach. Provide a title and URL and submit to this directory.
Corporate Business
Business web directory and online Internet marketing center, offering powerful promotion opportunities to your business and website. Maximize traffic to your website by submitting to the directory. Categorized in 7 main groups, including Consulting, Manufacturing, Internet Services, Professionals, Health, Pharmaceutical, Software & Telecommunications and Transportation.
Manufacturing- Contract Manufacturing
Manufacturing- Distribution
Manufacturing- High Technology
Manufacturing- Materials & Heavy Equipment
Manufacturing- Contract Manufacturing
Manufacturing- Distribution
Manufacturing- High Technology
Manufacturing- Materials & Heavy Equipment
business directory | corporate, financial & education directory | real estate & search engine directory | manufacturing directory | software, non-profit & retailers directory | company directory
NES' Screen Printer, deHaart MPC 24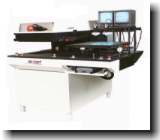 The deHaart MPC 24 with video alignment is engineered for FPT printing in an operator friendly production environment. With its unique easy access side shuttle design and menu driven microprocessor controls, this deHaart printer is ideal for short, medium, and full run production where flexibility is essential to maintaining quality and keeping schedules.
Screen Max. Size 24" x 24"
Quality
Repeatability
Flexibility
Final Inspection and Testing to MIL and ISO Standards
NES' Reflow Equipment, Heller 1700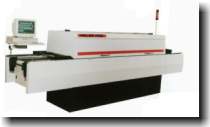 Heller 1700 embodies the most advanced designs for forced convection SMT reflow and curing ovens. Features include:
Forced Convection Heating
Multi-zoned System
Closed Loop PID Process Controller
Risk free to Boards
Uniform Temperatures
Maximum Board Width to 22"
Customized Solutions to Unique Processing Requirements
Quality Control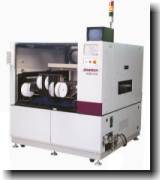 NES' Pick & Place Equipment, Zevatech ASM 810
Our Zevatech ASM 810 has earned its reputation as the best pick and place equipment for surface mount component assembly by focusing on the industry's current and future requirements. Features include:
Dual Placement Heads
Multilevel Programmable Centering
Board Offset Correction
Component Verification
Bad Circuit Sensors
CAD Input
Fine Pitch Placement
0402's to PLCC 100's
Board Size 18" x 20"
Touchless centering
Flexibility
Quality
Repeatability
SPS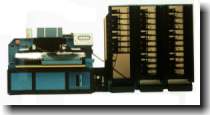 NES' Automatic Axial Lead Inserter, AMISTAR AI-6448
Equipped with diagnostic capabilities, automated insertion and placement machines are truly state-of-the-art.
Axial Component Verifier
Microprocessor Controlled
Program Verification
High Productivity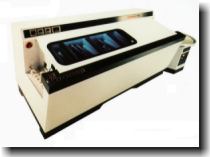 NES' Inline Aqueous Cleaner, Ultraclean II H2O
Our highly reliable cleaning system from Tooltronics, Inc., complies with the strictest standards for environmental cleaning of PC board assemblies. Advantages include:
Spray-Under Immersion Cleaning Technology
Spray Cleaning / SMD
Four-Stage Cascade and Final Rinse
Water Conservation
Hot Air/IR Drying Module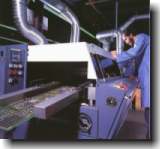 NES' Wave Soldering Equipment, The NOVASTAR 20" System
The NOVASTAR Technology Soldering System provides the ultimate in computerized wave soldering technology.
Flux Density Controller Monitors and Adjusts Flux and Thinner automatically
Four Zone Preheater Maximizes Efficiency
Omni Wave Minimizes Thermal Stress
Produces High Quality Solder Joints on Thru-Hole and SMD Boards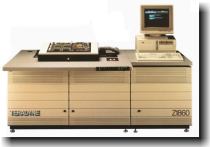 Teradyne Z1860 Test System
Our Teradyne Z1860 Series Test System plays an integral part in Total Quality Management. It helps us to deliver the best quality, highest performance products at the least cost to you- our valued customer. Features include:
In-line Use Design
Real-time Process feedback
Analog and Digital Precision Testing
Fast Debugging
Mechanical Fixturing or Programming
In addition to the above, we offer Burn-in facilites, Genrad and HP testing for both through-hole and SMT PCB's.
Your product will be assembled in our facility, packaged and shipped to your distribution centers.
NES Technologies, Inc.
8 Norfolk Avenue
South Easton, MA 02375-1156

Telephone: (508) 230-2470
Facsimile: (508) 230-8137
www.nestechnologies.com