CEMASTER«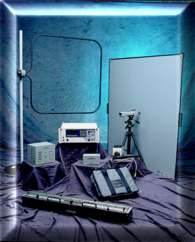 A multi-capability, low-cost EMC immunity test simulator, the CEMASTER is the ideal test system for companies required to test their products for the CE Mark.
The CEMASTER offers up to 6 compliance level test capabilities in a single unit. In addition, a complete range of test accessories for each of the six compliance level test standards further simplifies the testing process.
The CEMASTER is a customer configurable test system that allows customers to purchase a system specific to their needs and budget. If, in the future, your testing requirements change, your CEMASTER can be easily upgraded to incorporate those capabilities and accessories required to meet your expanding testing needs.
The CEMASTER performs compliant-level testing in accordance with European Norms for affixing the CE Mark.
| | |
| --- | --- |
| IEC Standard Test | Voltage Levels |
| IEC 61000-4-2 ESD | 8.8kV air; 4.4kV contact |
| IEC 61000-4-4 EFT | 2.5kV |
| IEC 61000-4-5 Surge | 2.5kV |
| IEC 61000-4-8 Power Frequency Magnetic Fields | 30 A/m |
| IEC 61000-4-9 Pulse Magnetic Fields | 800 A/m |
| IEC 61000-4-11 Dips and Interrupts | 70%, 40%, 0% short and open |
The CEMASTER has a two-year warranty with extended warranty programs available.
For additional product information, please download the CEMASTER brochure. For in-depth product specification sheets, please visit our literature room or complete the KeyTek Contact Us.

Contract Manufacturing, Distribution, High Technology, Materials and Heavy Equipment
Many of the online directories focus towards one market segment or audience profile. Here, we target the "best in class" for each of the served markets by industry leaders in their respective fields. Find a category that you feel is most relevant to the content of your site, or that attracts a customer demographic you wish to reach. Provide a title and URL and submit to this directory.
Corporate Business
Business web directory and online Internet marketing center, offering powerful promotion opportunities to your business and website. Maximize traffic to your website by submitting to the directory. Categorized in 7 main groups, including Consulting, Manufacturing, Internet Services, Professionals, Health, Pharmaceutical, Software & Telecommunications and Transportation.
Manufacturing- Contract Manufacturing
Manufacturing- Distribution
Manufacturing- High Technology
Manufacturing- Materials & Heavy Equipment
Manufacturing- Contract Manufacturing
Manufacturing- Distribution
Manufacturing- High Technology
Manufacturing- Materials & Heavy Equipment
business directory | corporate, financial & education directory | real estate & search engine directory | manufacturing directory | software, non-profit & retailers directory | company directory