Contract Manufacturing
Ferrotec offers high precision mechanical, electrical and electro-mechanical contract manufacturing resources, combining the efficient and state of the art manufacturing capability of its plants in China with local project management in the US. This enables us to bring you the high quality and low cost of offshore manufacturing, combined with the effectiveness of working with project managers and engineers based in your own country and time zone. In addition, Ferrotec can offer you easy access to the rapidly growing China marketplace. The factory in effect, becomes an extension of your own, offering you a China-based manufacturing and distribution center, close to your major customers in that region.

Facilities
Ferotec's contract manufacturing facilities are situated in Hangzhou, approximately 180 km from Shanghai in the north of the Zhejiang province and in Shanghai.
These modern facilities are world class and equipped with the latest manufacturing equipment. The China facilities total over 350,000 square feet (31,000 m2) in size and employ over 1500 people. Under local management, Ferrotec's facilities in China are committed to serving the needs of customers globally while motivating and rewarding employees, preserving the environment and providing long term growth. The Hangzhou facility has achieved ISO 9002 accreditation.
Capabilities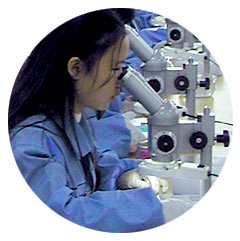 Ferrotec's capabilities are constantly growing to meet the continuously changing demands of the marketplace. They range from machining and assembly to mechanical, electromechanical and software engineering design. We offer a truly broad range of services from simple component manufacture and assembly to full project outsourcing capability, from concept to completion, including design, manufacture, inventory stocking and supply.
Precision machining
Contract assembly
Plating and coating
Electro-mechanical assembly
Clean room assembly
Sheet metal fabrication
Vacuum welding
Mechanical design
Software design
Comprehensive product testing
Global purchasing / procurement capabilities
Benefits
Developing manufacturing alliances with a qualified contract manufacturer has proven to be the path to success for many companies. By establishing a relationship with the right contract manufacturer, you will be free to focus your resources on your core competencies. At Ferrotec we will help you to achieve your goals of improved quality, reduced cycle time, reduced cost, reductions in manufacturing lead time or rapid, low cost expansion of manufacturing capacity. Our engineering resources compliment our manufacturing capabilities allowing us to provide you with unparalleled service. Our goal is to build high quality long-term relationships based on delivering the highest value and best service.
Benefits that outsourcing to Ferrotec can offer include:

Resource expansion
Improved quality
Reduced investment in manufacturing
Reduced manufacturing lead time
Product distribution in Asia
Reduced market risk and currency fluctuations
ISO accreditation

Ferrofluid | Vacuum Feedthroughs | Thermoelectric Modules
Contract Manufacturing | Literature Rack | Specialty Seals
Inertia Dampers | Electron Beam Evaporation