Audio Fluids
Overview
Ferrofluids have been extensively used in audio speakers for over 25 years. They offer significant performance advantages in tweeters, mid-ranges, woofers, compression drivers and automotive speakers. Some of the advantages in using ferrofluid include increased power handling apabilities, smoothing of frequency response curve and reduced distortion. Ferrofluidics, the world leader in magnetic fluid technology, offers a wide range of fluids for audio applications.
Ferrofluid resides in the air gap of the magnet and completely fills the space between the coil OD/pole and coil OD/top plate. No physical containment is needed as the fluid is held in place by the strong permanent magnetic field.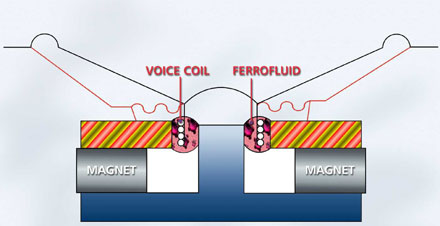 The choice of ferrofluid depends on specific loudspeaker requirements in terms of the damping required and the field in the gap.Two key properties of the fluid determine the correct fluid for any application: the viscosity and the magnetization value. The higher the viscosity of a ferrofluid, the greater the viscous damping of the moving mass. A fluid with the correct magnetization value must be chosen to ensure retention of the fluid in the air gap. All ferrofluids, independent of viscosity, essentially provide the same heat transfer from the voice coil to the magnet structure.
Every speaker design is unique. Some speakers, for example supertweeters, require only light damping but need very high colloidal stability of the fluid, whereas tweeters often require high viscosity fluids. To accommodate this there is a complete range of ferrofluids with varying viscosity values and magnetization properties. This means that whatever your requirements in terms of mechanical damping and fluid retention, there is probably a suitable fluid from one of our standard ranges. If not, our team of experienced audio engineers can custom engineer a new fluid to meet the performance objectives of your loudspeaker.
Ferrofluid | Vacuum Feedthroughs | Thermoelectric Modules
Contract Manufacturing | Literature Rack | Specialty Seals
Inertia Dampers | Electron Beam Evaporation