Use the navigation to the right to browse through hundreds of column choices, features and online pricing. Get crown columns shipped the next day!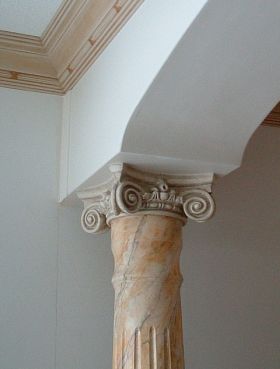 Many standard designs of crown columns are available that can be used for corner accents, room seperators, porch and ornamental garden features, and many more. The Colonial Wood column comes with a one year warranty for stock, architectural and clear (smooth) decorative columns.
They come in either round or square varying in size. All columns are available either smooth or fluted.
Visador Holding Corporation, headquartered in Marion, Virginia, is the holding company for two businesses: Coffman Stairs and Crown Column. Founded in 1874, Coffman is the leading manufacturer of hardwood stair parts in the United States. Crown Column, with facilities in Gadsden, Alabama, produces a broad offering of synthetic and wood columns, porch posts and lamp posts used in the construction, repair and remodeling of homes.
"Coffman has enjoyed a successful presence for many years in Virginia, Smyth County in particular," stated Jerry W. Lockette, CFO/COO, Visador Holding Corporation. "Last year we expanded our operations in Marion by working very closely with the Smyth County officials, so expanding within Virginia was not a difficult decision. When analyzing all options available to us we found the cost and ease of successfully completing this expansion could most effectively be done in St. Paul. We look forward to a long, successful business presence in both of our Virginia facilities."
View Gallery
| | |
| --- | --- |
| Square Columns | Round Columns |
| Double Columns | Pilasters |
View Products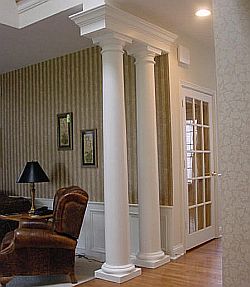 Your best source for affordable crown columns.