Use the navigation to the right to browse through hundreds of column choices, features and online pricing. Get greek columns shipped the next day!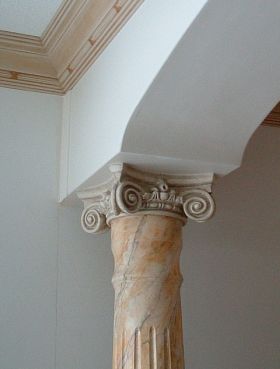 Many standard designs of greek columns are available that can be used for corner accents, room seperators, porch and ornamental garden features, and many more. The Colonial Wood column comes with a one year warranty for stock, architectural and clear (smooth) decorative columns.
They come in either round or square varying in size. All columns are available either smooth or fluted.
Features to Look For:
Basic elements of Classical Greek design: columns, entablatures, pediments
Simple forms, temple-like appearance, symmetry
On vernacular examples, heaving moldings, simple cornices, "returns"
Entrances with rectangular transoms and heavy, plain moldings
The Greek Revival style was most popular in Indiana from about 1840 to around 1860. In both France and England, architects created buildings which had heavy temple-like exteriors in the late 18th and early 19th centuries, rather than the delicate classicism of the previous Adamesque period. American builders, architects, and home owners caught on to the style from European sources. Generally, the style emulated the temple forms of ancient Greece, resulting in the creation of straightforward, box-like buildings. In smaller domestic structures, carpenters created simple ornamentation. Most Greek Revival buildings have evenly spaced, multi-paned windows and entrances marked by sidelights and rectangular transoms. Substantial cornices often extended into gable ends as "returns." Roofs were low pitched gables, similar to those of classical temples. Columns and pilasters proportioned to imitate ancient forms appear on larger Greek Revival buildings. Nearly always, the bolder forms of the style contrast with the lighter delicacy of the Federal style.
View Gallery
| | |
| --- | --- |
| Square Columns | Round Columns |
| Double Columns | Pilasters |
View Products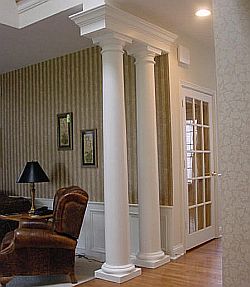 Your best source for affordable greek columns.