Use the navigation to the right to browse through hundreds of column choices, features and online pricing. Get architectural columns shipped the next day!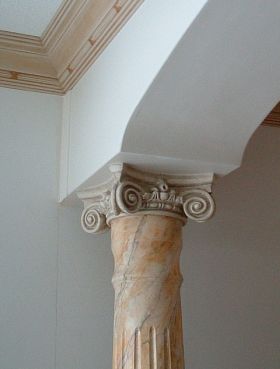 Many standard designs of architectural columns are available that can be used for corner accents, room seperators, porch and ornamental garden features, and many more. The Colonial Wood column comes with a one year warranty for stock, architectural and clear (smooth) decorative columns.
They come in either round or square varying in size. All columns are available either smooth or fluted.
Arlington House Architecture & Construction
rlington House was built by slaves on the plantation of handmade brick covered with a very hard cement called "hydraulic cement," and the surface was scored and painted to look like marble and sandstone, a faux finish! These faux finishes were very popular in the early 19th century, just as they are now. The back or West side of the house was left unfinished with the brick exposed until 1818.

One of the earliest Greek Revival structures, and one of the earliest residences to use the "Colossal Orders," (the huge columns that span the entire two stories of the house), the Arlington House design was inspired by a specific Greek temple. The plan is attributed to George Hadfield, a young English architect who had earlier worked on the United States Capitol building. Hadfield probably also designed the slave quarters in back of the house. These structures form a small court and harmonize in style with the house.
Slave Quarters
Located in back of the main house are two rectangular buildings, which are set at right angles to the house, forming a small service court. These buildings, the two surviving slave quarters which housed slaves who were the house servants of the Custis and Lee family, have three rooms each, and have stone foundations with rough stucco walls featuring Greek Revival architectural details. It is thought that Hadfield also planned these buildings. The stone well is located between one of these structures and the North Wing of the house.
View Gallery
| | |
| --- | --- |
| Square Columns | Round Columns |
| Double Columns | Pilasters |
View Products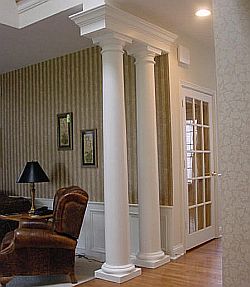 Your best source for affordable architectural columns.