Use the navigation to the right to browse through hundreds of column choices, features and online pricing. Get interior columns shipped the next day!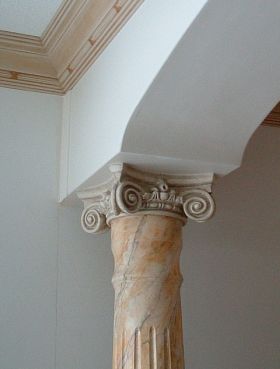 Many standard designs of interior columns are available that can be used for corner accents, room seperators, porch and ornamental garden features, and many more. The Colonial Wood column comes with a one year warranty for stock, architectural and clear (smooth) decorative columns.
They come in either round or square varying in size. All columns are available either smooth or fluted.
Capitol Building:
Building Stones: Center building, Virginia Aquia Creek sandstone; Senate and House wings, Lee, Mass., dolomitic marble; Rotunda floor, Seneca, Md., sandstone; columns of wings, Cockeysville, Md., white marble; center steps, Renville, Minn., granite; west elevation steps, Mount Airy, N.C., granite; west elevation balustrade, Vermont marble; interior balustrades and columns of stairs leading to House and Senate galleries and wall of Marble Room, Tennessee marble; east front exterior, Georgia White Cherokee marble (covering original Aquia Creek sandstone); 24 exterior columns, Georgia marble; interior columns, Statuary Hall, Old Senate Chamber and foyer, Maryland Potomac marble; columns in Crypt and those with corn and tobacco leaves, Virginia Aquia Creek sandstone; columns, ground floor east front addition, Colorado brecciated marble.
View Gallery
| | |
| --- | --- |
| Square Columns | Round Columns |
| Double Columns | Pilasters |
View Products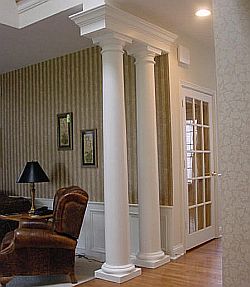 Your best source for affordable interior columns.