Component Video Cable
Component Video Cable for Higher Performance
Our Component Video Cable is ideal for standard definition TV and high end graphics monitors. For SDTV, step up from a composite cable connection to the quality of component video. Most TV's, DVD players and surround sound systems offer this enhanced connection. These cables are provided with 3 RCA type connectors at each end.
High Definition RGB Video
RGB Video Cable consists of BNC and HD15 connector combinations. They carry red, green and blue color signals as well as horizontal and vertical synchronization information. Each cable features low loss, 75 Ohm coaxial lines that are fully shielded to protect against RFI/EMI interference. Each RGB cable also includes in-line ferrites for additional noise immunity and solid performance.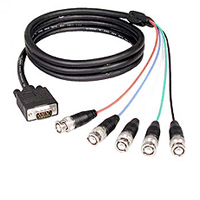 Whether you're installing new equipment or upgrading your existing infrastructure, Warehouse Cables has the video cables you need, at an affordable price!
Choose your product from the left menu to view more details.
Purchase Direct and Save
For computer and networking cables, Warehouse Cables is your direct source for quality, selection and value!