The PostureTek system is a state-of-the-art posture aid that provides posture support, improves health and promotes overall wellbeing.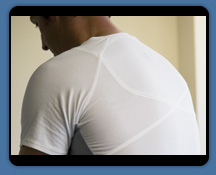 The PostureTek shirt is a unisex garment designed as a posture aid for men, women and youths. No matter your age or lifestyle, you can use this posture aid shirt to help develop a healthy posture.

You can wear the PostureTek shirt under your regular clothing whether you're at home, in your car, at the office or working out at the gym. Your posture support shirt can be worn on a daily basis in order to improve posture over the long term.

This posture aid shirt is available in various sizes and four color options:






Get the posture support you need – purchase your posture aid PostureTek shirt today.