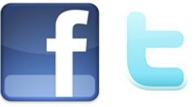 Connect with Perseus Athletics via Facebook and Twitter!
Stay connected to Perseus through Facebook & Twitter in order to learn more about upcoming events, updates, and articles!
Perseus Athletics joined Facebook in April of 2009 and has since added a fan page and a profile for Perseus Athletics. Not only is Perseus regularly posting updates about posture and golf training, we are also staying current on sports medicine, posture exercises, and golf training aids through our own social networks. Make sure you also follow Perseus on Twitter - answer questions or give suggestions on how you improve your health and receive free give-aways!
Click here to become friends with Perseus Athletics.
Click to follow Perseus Athletics' fan page.