Whether you're driving, chipping, or putting the golf ball, every shot on the course depends on a very important yet often overlooked element: the stability of your lower body. The Anchor, a unique golf swing training aid, addresses this critical aspect of your swing by keeping the flexion of your back knee in a stable position throughout the entire golf swing.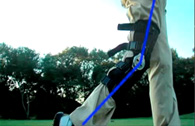 Play Video
Developed by Dr. Brian McKeon, a world-renowned orthopedic surgeon and sports medicine expert, The Anchor is the ultimate golf swing training aid. Best of all, it's as easy to use as it is effective. The Anchor is fully adjustable, and can be used to improve any shot, regardless of the setup. Comfortable, durable, and completely safe, this golf swing training aid is engineered to maximize the natural physics of your swing by securing your lower body and ensuring proper balance. With a stabilized base, you'll immediately sense a more balanced, compact swing with no excessive motion.
Designed with everyone in mind.
Whether you're a novice or a seasoned golfer, The Anchor is the perfect training tool to help you build a better swing. Completely safe and comfortable, this golf swing training aid will immediately help you achieve maximum accuracy and transfer of force.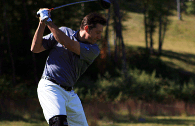 VIEW IMAGE GALLERY
Practice makes perfect.
To get the most out your new golf swing training aid, wear The Anchor at the range or during practice play in order to develop the proper anchoring and swing technique. Or visit our training page to learn more about the benefits of this golf swing training aid.

Purchase this revolutionary golf swing training aid here.