WALL MOUNT PATCH / DISTRIBUTION PANELS

Fico, Inc. offers a full line of fiber optic patch panels. These panels are manufactured from heavy duty steel and coated with state of the art high quality Powder Coat finish. Grounding/strain relief lugs are provided along with specially designed "cable tie-down" support islands. Unloaded six pack plates are provided with each panel at no extra cost. For more information on our fiber optic patch panels please call our Sales Department.

WALL MOUNT 6/12 PANEL

Panel houses up to 12 terminated connectors. Dimensions: 11.5"W x 8"H x 3.5"D
(Please specify six pack plate from chart below )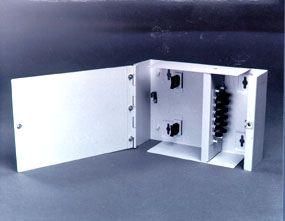 PART
DESCRIPTION

PRICE

PWP06
Wall Mount 6 Port/Patch Panel

$64.00

PWP12
Wal Mount 12 Port/Patch Panel

$64.00

PWD12
Wall Mount 12 Port Distribution Panel
(incl. splice tray)

$132.00
WALL MOUNT 12/24 PANEL
Panel houses up to 24 terminated connectors. Dimensions: 16"W x 16"H x 3"D
(Please specify six pack plate from chart below )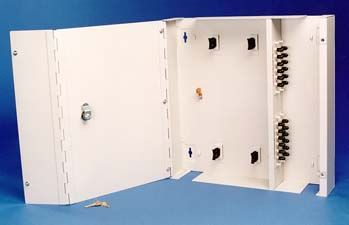 PART
DESCRIPTION

PRICE

PWP24
Wall Mount 24 Port/Patch Panel

$117.00

PWD24
Wall Mount 24 Port/Distribution Panel
(incl. splice tray)

$200.00
Panel houses up to 48 terminated connectors. Dimensions: 16"W x 16"H x 6"D
(Please specify six pack plates from chart below. )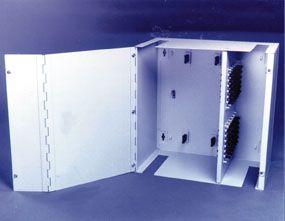 PART
DESCRIPTION

PRICE

PWP48
Wall Mount 48 Port/Patch Panel

$214.00

PWD48
WallMount 48 Port/Distribution Panel
(incl. splice tray)

$379.00
DISTRIBUTION PANELS:
Are provisioned for splicing and include splice trays. When ordering distribution panels, please specify your splice tray requirements to our Sales Department. Note: Panels do not include connector adapters and must be ordered separately.


Six Pack Part Numbers
All panels include six packs for the connector type specified. See the table below for the part number. Order that part number on a separate line at no charge. For example, a 24 port rack mount patch panel (PRP24) has four (4) 6-packs. If you want ST 6-packs you need to order four (4) of part number 1000 at no charge. Extra 6-packs are available for $3.30. Please call our Sales Department for ordering information.



| | | |
| --- | --- | --- |
| PART | DESCRIPTION | PRICE |
| 100 | ST Style Unloaded | $3.30 |
| 1001 | FC/PC Style Unloaded | $3.30 |
| 1002 | D4 Style Unloaded | $3.30 |
| 1004 | SC Style Unloaded | $3.30 |
| 1005 | SC Duplex Unloaded | $3.30 |
| 1006 | LC Duplex Unloaded | $3.30 |
| 1007 | FDDI Style Unloaded | $3.30 |
| 1009 | Blank Panel Unloaded | $3.30 |