Contract Manufacturing, Distribution, High Technology, Materials and Heavy Equipment
Many of the online directories focus towards one market segment or audience profile. Here, we target the "best in class" for each of the served markets by industry leaders in their respective fields. Find a category that you feel is most relevant to the content of your site, or that attracts a customer demographic you wish to reach. Provide a title and URL and submit to this directory.
Corporate Business
Business web directory and online Internet marketing center, offering powerful promotion opportunities to your business and website. Maximize traffic to your website by submitting to the directory. Categorized in 7 main groups, including Consulting, Manufacturing, Internet Services, Professionals, Health, Pharmaceutical, Software & Telecommunications and Transportation.
Manufacturing- Contract Manufacturing
Manufacturing- Distribution
Manufacturing- High Technology
Manufacturing- Materials & Heavy Equipment
business directory | corporate, financial & education directory | real estate & search engine directory | manufacturing directory | software, non-profit & retailers directory | company directory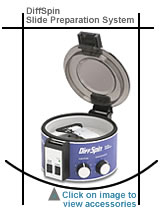 Slide preparation system for WBC differential and RBC analysis.
DiffSpin Slide Spinner for technique independent blood films. The modern alternative to wedge smears.
DiffSpin is a compact, quiet, easy to use slide spinner for the preparation of uniformly distributed cell monolayers for WBC differential analysis. Complete with a start-up supply of slides and slide holders the DiffSpin safely prepares high quality technique independent monolayers. Benefits of spun slide preparations include:
Promotes even staining and easier counting
Minimizes damage to WBC and improves RBC morphology
Streamlines workflow, takes only 3 seconds!
Simple clean safe procedure
Patented slide holders contain excess blood
Ideal as a reference method
The DiffSpin® Slide Spinner works off single phase electrical power from 120VAC 50/60HZ and is UL listed. A 100V and 240V model are also avaiable.


Products Number
DS02
DiffSpin Slide Spinner
DSPK



SL72
PD50
SC01
SC01-10
Slide Preparation Kit, 70 per kit
Consist of microscope slide, slide holders
and 50 µL drop size transfer pipettes

DiffSpin Microscope Slides,144 / pk.
Transfer Pipettes, 50 µL,70 / pk.
Slide Holders100 / pk.
Slide Holders1000 / pk.
System Specifications
| | |
| --- | --- |
| Method | Centrifugal Spreading |
| Duration Control | 9 settings, 0.4 to 3 seconds |
| Acceleration | 9 settings, slow to rapid |
| Sample Volume | 50 µL - 150 µL |
| Sample Type | Capillary or Anticoagulated |
| Operating Temp. | 15°C to 32°C |
| Slide Size | 1" x 3" ( SL72 Recommended ) |
| Warranty | 1 Year |
| Weight | 3.7 lbs. |
| Dimensions | 4.5" H x 6.7" W x 8.5" D |