Generator Winding Equipment
Description:
CoilWinder offers winding systems dedicated to winding generator rotors, poles and generator exciter coils. Heavy-duty winding machines, special cantilevered winding tooling and wire dereeler/tensioning systems provide for high production performance.
Whether rotors are hollow bore or with the shaft inserted, these toolings allow for pole-to-pole rotation between winding, without removing or lifting the rotor until all 4 poles are wound. The tooling locks the rotor precisely in place for proper and simple pole alignment and the best wind situation, increasing quality, production and operator safety. Each tooling is made to accommodate a range of lamination diameters and stack heights to meet your product requirements.
Our winding machine controls will provide the proper wire guide motion to accommodate precision layer winding on Straight or Skewed lamination stacks, Shaded or Non-shaded poles.
Several photos below display this type of heavy-duty solid steel fabrication designed to precisely hold and rotate these revolving field rotors with lamination stacks between 150 mm (6") to over 760 mm (30") diameter and stack heights up to 1,524 mm (60") or more. (Some of the rotors in these photos have been purposely "Blurred" to protect the customer's product design).
A Completed System:
"Below" is a completed system with Model 900 Winder (behind sheet metal guard), large cantilevered 4-pole rotor winding tooling for up to 762 mm (30") diameter rotor, servo wire guide, wire dereeler/tensioner with dancer accumulator, control stand with MP-4 winding controller and operator station, 3-sided physical guarding and front light curtain guarding.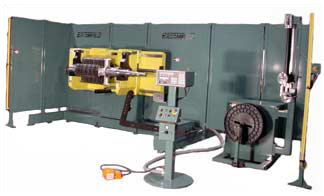 Model 900 Winder (behind sheet metal guard)
Example A: Cantilevered
Example B: Cantilevered
The above Model 900 winder was configured to support 9,090 kg. (20,000 lbs) cantilevered load. Servo wire guide located beneath 4,545 kg (10,000 lbs) rotor mounted in tooling.

For more information on coil winding equipment and other CoilWinder machines, please contact us at (999) 999-9999 or through our online contact form.



Back Top
The information contained in this website is for general information purposes only. Content may change without notice. CoilWinder is not responsible for any incorrect content listed or changes on the website.