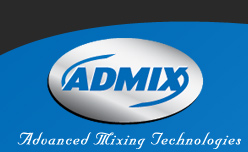 Pharmaceutical Processing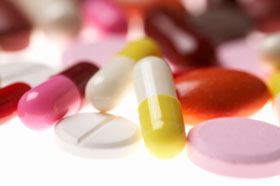 Today's pharmaceutical processes involve a large range of liquid blending operations. These can include simple liquid blending or heat transfer challenges, through gum and stabilizer dispersions, up to emulsion creation.
QUESTION
SOLUTION
Making a simple liquid-liquid blend of flavor or color in a fluid stream? Need to heat or cool a liquid stream?

Admix offers its Admixer line of static blenders for continuous processing with no moving parts.

Side stream injectors, heat transfer and temperature control with jackets
Easily cleaned removable elements and specially polished finishes are all available
Meets 3-A TVP Standards #35-02

Looking for simple tank agitation, with volumes through 10,000 gallons?

The Rotomixx and Rotomaxx lines offer fixed or portable tank agitation in all stainless steel construction. Provide simple blending for miscible fluids, solids incorporation and dispersion, or maintain a suspension.

Dispersing hard-to-wet powders that fisheye, agglomerate or even raft on the top of the vessel? Need consistent pill coating dispersions?

The Rotosolver combines good product motion with efficient pumping blades, a high shear mixing region to break down fisheyes and agglomerates.

Clean-in-Place
Meets 3-A TPV Standards #73-01

Creating a cream or lotion that is dependent upon a good, tight, stable emulsion?

The Rotostat rotor-stator mixer provides bulk tank motion without any in-tank bearing frame or supporting arms to block product flow. Its high shear properties mechanically break down solids (like wax) used to give body to many creams, without requiring elevated temperature to melt these solids.

Developing new formulas or considering a different production method?

The BenchMix programmable high shear lab mixer can be configured with Rotomixx, Rotosolver and Rotostat heads for the greatest flexibility and accurate scale-up to full production.

We are so confident in our scale-up methods that we provide a process performance guarantee! Contact Us for details.

Running product through multiple passes in a high pressure homogenizer, filtering out lumps and fisheyes or trying to finish refine a product before the filler machines?

For in-line continuous processing, the DynaShear and Boston Shearmill high shear mixers and wet mills provide tight emulsions. Typical droplet size with the DynaShear is 2-3 microns and as fine as 0.5 microns with the Boston Shearmill. Break down tough fisheyes in a single pass, deagglomerate a fluid stream to save filter cleaning and wasted raw material. Designed to run 24 hours a day / 7 days a week!

Looking for improved, safer methods of incorporating powders?

Admix offers the VacuShear system to induct powders or liquids under vacuum, provide high shear mixing for immediate powder dispersion, and vacuum deaeration for the best finished product. Where air entrainment is not a concern, the Admix powder induction line-up of Optifeed, PIC and Fastfeed provide inline, continuous powder induction and disperion at powder feed rates in excess of 150#/min on a single pass.
Equipment Specifications for Pharmaceutical & Biotech Industries