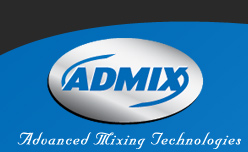 Pharmaceutical & Biotech
Today's pharmaceutical processes involve a large range of liquid blending operations. Methods range from simple liquid blending or heat transfer challenges, gum and stabilizer dispersions, to the more complex process of emulsion creation.
Admix has solutions to all of these process levels for the pharmaceutical and biotechnology industries. Our mixing expertise combined with our understanding of commonly used ingredients allow us to offer solutions that improve production with more effective mixing, reduced horsepower and optimized capital costs.
Our sanitary designs meet the newest and toughest hygienic and safety standards for GMP facilities. Many Admix products have received the 3-A Third Party Verification (TPV) certification and comply with cGMP stringent standards. Factory Acceptance Testing (FAT), QA and Validation documentation packages are available.
Find answers to your specific questions by using the links on this page. And if what you're looking for isn't here, please call us at 800.466.2369 and let one of our engineers help you on your way to higher yields and improved processing.