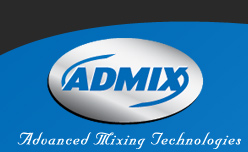 Industry
At Admix, we're known for developing innovative solutions to our customer's mixing challenges. No matter what industry you're in we're here to offer advanced technologies that will help you run more profitable and streamlined processes.
Our sanitary designs meet the newest and toughest hygienic and safety standards. And we custom design systems that result in ergonomic safety, increased energy efficiency and superior output, no matter what you're mixing.
Click the links to the right to find more details on your specific industry and if what you're looking for is not represented here, please call us at 800.466.2369 to discuss your particular mixing problem.