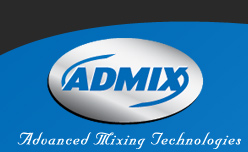 Rotomixx® Sanitary Mixer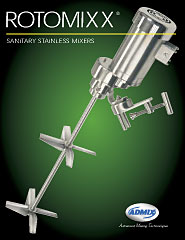 The Rotomixx is an all-stainless steel portable mixer for the Food, Pharmaceutical, Cosmetic and Chemical industries. It is Admix's answer to the dilemma that has plagued the clean industries: What do you do with mixers that are rusting or have chips of paint coming off the gearbox and motor? For applications where cleanliness is an issue and sanitary conditions must be met, Rotomixx portable mixers provide the solution.
Admix was one of the first suppliers to offer an all stainless portable mixer, and our Rotomixx has become a leader in the industry. It is available as a clamp mount "portable" (although the all SS motor and mixer housing weighs in at over 100 lbs. on some models making it a little less portable!). It is also available as a fixed mount for flange, nozzle or baseplate installations. We also have an excellent Tri-Clamp® ferrule mount for sanitary easy-off installations. Does your existing supplier offer this?
Key Features of the Rotomixx Sanitary Stainless Mixer:
Heavy Duty All 316 Stainless Bearing Frames

Meets 3-A TPV (#73-01) and USDA-AMS Standards

Arbor Design for Direct Drive Units Offers Flexibility:

Both 1" and 1.25" shaft diameters available for extended shaft lengths

Shaft can be easily removed without disassembly of entire bearing frame

Shaft is held in place with socket head screws hidden behind a protective, watertight cover

Flexible Motor Coupling (spider coupling):

Allows use of 56C or 145TC motor frames

Concentricity of motor/arbor alignment is very forgiving, allowing for easy assembly/disassembly

HYTREL® elastomer in the coupling is flexible, running quieter and cooler

Oversized Ball Bearings for Reduced Maintenance and Downtime

Long life (estimated at 100,000 hours), exceeds the normal L10 bearing life

Increased life means less maintenance, fewer scheduled downtimes

Double Lip Seals are Standard, with Optional Seal Plate for CIP or Washdown Applications

Several Grades of all 304SS Electric Motors are Available