(Standard - Custom)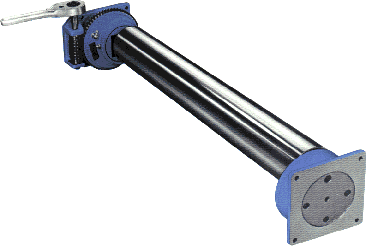 Listed below are roll assemblies coupled with Yorkshire SLIMB bearings which are now standard assemblies with Yorkshire. It is now possible to specify from one source the particular roll size and specification along with the particular SLIMB bearing size you require. The assembly is shipped as a complete package ready to mount in your machine or framework.
If your requirements fall outside of those that are listed, please note your particular specification so that we may return a quote to you as soon as possible.
Unless otherwise specified, the following specifications shall apply to the roll assembly. See Standard Bearings for the SLIMB bearing specifications.
| | |
| --- | --- |
| 1. | Roll surface to be straight to within 0.002" TIR. |
| 2. | Roll to be statically balanced to within 2 inch-ounces. Specify dynamic balance when required. |
| 3. | Ball bearings in roll heads to be sealed cartridge type, prelubricated, with lube fittings. |
| 4. | Roll finish to be "as ground" 50, shaft finish to be "as machined". Specify plating, rubber covering or other surfaces if required. |
| 5. | Materials: Roll--drawn over mandrel steel tubing whenever possible, otherwise CDSM tubing; Shaft--CRS. |
| 6. | SLIMB units are assembled and shipped with the axis of the worm drive shaft perpendicular to the plane of motion of the roll. Should other relative positions be required, e.g., the worm drive shaft axis parallel to the plane of motion, or some other relative angle, please specify. See Drive Bearings. |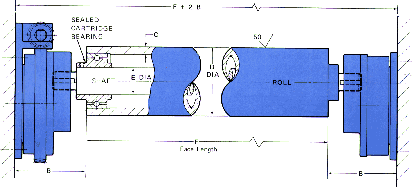 | | | | | | | | | | |
| --- | --- | --- | --- | --- | --- | --- | --- | --- | --- |
| D | 3.000 | 3.250 | 3.500 | 3.750 | 4.000 | 4.000 | 4.500 | 5.000 | 6.000 |
| E | 1.187 | 1.250 | 1.250 | 1.250 | 1.250 | 1.687 | 1.437 | 1.750 | 1.9375 |
| C | .312 | .250 | .312 | .312 | .312 | .312 | .375 | .375 | .375 |
| Model No. | B | B | B | B | B | B | B | B | B |
| 2SBS-6-12 | 3.062 | 3.125 | 3.125 | 3.125 | 2.937 | 3.250 | | | |
| 3SBS-9-16 | 3.437 | 3.500 | 3.500 | 3.500 | 3.312 | 3.625 | 3.375 | 3.469 | 3.437 |
| 4SBS-12-18 | 3.812 | 3.875 | 3.875 | 3.875 | 3.687 | 4.000 | 3.750 | 3.844 | 4.187 |
| 5SBS-15-21 | | | | | | 4.250 | 4.000 | 4.094 | 4.687 |
| 6SBS-18-24 | | | | | | 4.750 | 4.500 | 4.594 | 4.937 |
| 7SBS-21-28 | | | | | | | | 4.884 | 5.312 |
| 8SBS-24-30 | | | | | | | | | |
ALL DIMENSIONS IN INCHES











Applications | Standard Bearings | Drive Bearings | Powered Rolls | Simplified Drive Systems
Mini Bearings | Wrenches | Information Request Form | Ordering Information | Main SLIMB Page
About Yorkshire
---
Yorkshire Industries, Inc.
P.O. Box 5100, Andover, MA 01810
Toll Free: 1-888-475-1949
Fax: 978-688-5348
solutions@yorkshireind.com