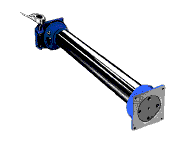 What does Yorkshire Industries mean to your business? Try these for starters! Fully automatic web roll tension profile control--no more baggy edges. Patented SLIMB bearings for superior web roll design and control. Precision optical alignment for all industrial applications. Custom engineering, re-engineering, design and manufacture. Advanced compact multi-function data logging.
When industrial professionals think of Yorkshire they think of the above combined with Yorkshire's unique brand of technical innovation that has solved problems inherent to the web industry for over 30 years. Yorkshire saves its customers in the paper, printing, textiles, and plastics business a lot of money with its innovations and invites you to peruse this site to become familiar with what Yorkshire can do for you
.
Please register for updates and feel free to contact us at our e-mail address (solutions@yorkshireind.com) or callus toll free at 1-800-448-1166. We've also included convenient information request forms throughout the site so that you may find out more about Yorkshire products that interest you. Can't find what you want?
We look forward to answering your questions--remember, true web control and innovation is only a call away. We look forward to hearing from you.
Yorkshire Industries is a small, family operated engineering and manufacturing firm located in the scenic Merrimack Valley region of Massachusetts. Directed by Robert R. Henry, President and CEO, Yorkshire has provided innovative roll control products to the paper, textile, printing, photographic, plastics, and nuclear industries for 30 years. An undergraduate of Tufts University, Mr. Henry completed post-graduate studies at MIT in 1959.

Since its inception in 1966, the Yorkshire Group has brought its unique brand of technological innovation to companies large and small worldwide. In 1966 Yorkshire introduced its revolutionary SLIMB Bearing and simplified roll control. Ten years later Yorkshire introduced its fully automated Tension Profile Control, providing patented computerized roll control and analysis eliminating wrinkled/baggy edges.

References? Of Course! Feel free to contact us with questions. We look forward to hearing from you.






What's New
| Registration | SLIMB Bearings | Tension Profile Control
Precision Optical Alignment | Custom Design & Manufacture
---
Yorkshire Industries, Inc.
P.O. Box 5100
Andover, MA 01810
Toll Free: 1-888-475-1949
Fax: (978) 688-5348
Email: solutions@yorkshireind.com