(Heavy Duty)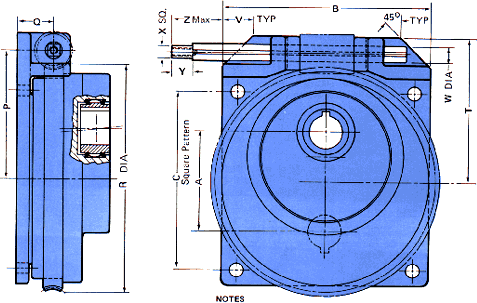 Worn shaft keyway to be standard.
Special sizes available on request.
All units are cadmium plated with yellow chromate, per specification QQ-P-416, Type 2, Class 2.
Worm gear material: Cast Iron--Bronze available on request.
Worm material: C1144--Stainless Steel available on request.
Worm shaft material: Stainless Steel.

SLIMB bearings normally assembled as shown, i.e. journal axis of travel perpendicular to worn shaft axis. Other relative axis of travel may be specified.
Model
No.
P
Q
R
T
V
W
X
Y
Z
Worm Gear Teath
Shaft Tap

1.5SBS-3-9W

2.313
.719
4.170
2.69
.630
.313
.250
.375
1.25

64

8-32NC

2SBS-6-12W

3.000
1.090
5.220
3.50
.750
.500
.375
.625
1.50

60

1/4-20NC

3SBS-9-16W

3.830
1.090
6.890
4.38
.920
.500
.375
.625
2.25

80

1/4-20NC

4SBS-12-18W

4.500
1.090
8.220
5.00
.940
.500
.375
.625
2.38

96

1/4-20NC

5SBS-15-21W

5.330
1.219
9.680
6.00
1.000
.625
.500
.625
2.38

94

1/4-20NC

6SBS-18-24W

6.250
1.375
11.375
7.00
1.500
.750
.625
.875
2.38

88

3/8-16NC

7SBS-21-28W

6.750
1.375
12.375
7.50
1.375
.750
.625
.875
2.38

96

3/8-16NC

8SBS-24-30W

8.00
1.437
14.875
8.87
1.750
.750
.625
.875
2.38

116

3/8-16NC
ALL DIMENSIONS IN INCHES











Applications | Standard Bearings | Roll Assemblies | Powered Rolls | Simplified Drive Systems
Mini Bearings | Wrenches | Information Request Form | Ordering Information | Main SLIMB Page
About Yorkshire
---
Yorkshire Industries, Inc.
P.O. Box 5100
Andover, MA 01810
Toll Free: 1-888-475-1949
Fax: 978-688-5348
solutions@yorkshireind.com