Connecting our Community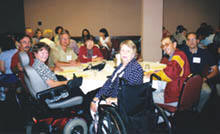 Thanks to community volunteers, we are able to organize opportunities for people concerned with SPF disorders to meet others, learn, share, and have fun.

Depending upon the location and the coordinator, these may be informal gatherings, regular support groups, annual events, national conferences, social outings, or just meeting for coffee or lunch to chat with others.

We are also working to develop regional groups and to partner with related organizations to provide opportunities for people in our community to connect with others. As a new organization, we seek volunteers who can help. Please visit our Calendar to see what's coming up and contact us for information about organizing something in your area.

Some events held this year

2003 TeamWalk For Our Cures National Conference and Walkathon. More than 130 people from across the country joined us for this year's signature weekend in the Boston, MA area. The Research and Beyond Conference featured leading experts and the TeamWalk Walkathon featured the first public appearance of the IBOT wheelchair. Please see TeamWalk Summary.
---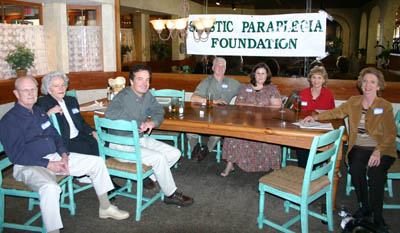 Harlingen, TX, November. A Casual Connection Luncheon was organized by Marlene Doolen, SPF Secretary (far right in photo) at the Olive Garden Restaurant in Harlingen. Marlene and her husband Carrol (who took the photo) were visiting relatives for Thanksgiving and held the Casual Connection while in the area.
Attendees enjoyed meeting others with SPF disorders and sharing stories. Marlene and Carrol presented a special program Carrol created on DVD that highlighted many of the year's exciting activities.
Marlene organizes events in the Austin, TX area. Contact Marlene.
---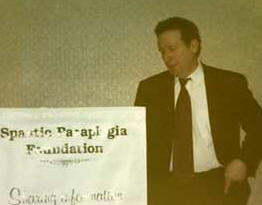 Milwaukee, WI, October. The first annual conference in Milwaukee was organized by Annette Lockwood, board member. Forty people attended the "Time to Share and Learn" Conference.
John K Fink, M.D., University of Michigan, guest speaker (at right) presented Progress in Understanding HSP/PLS. Jennifer Terrien, Clinical Specialist for Medtronic, spoke about Intrathecal Baclofen Therapy and the new pumps that will be available in the near future. The Role of Physical Therapy was addressed by Rob Horkheimer, PT in the Spinal Cord Disorder unit at Froedtert Memorial Lutheran Hospital in Milwaukee.
The Milwaukee group intends to hold an annual conference. Contact Annette.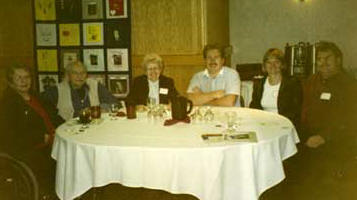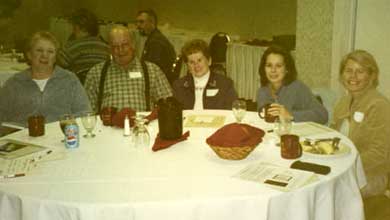 ---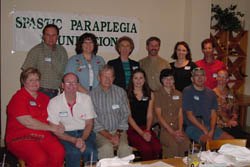 Austin, TX, September. The second Austin Dinner Connection was held with another great turnout of people. The event featured public speaker Steven List, who talked about relationships and the importance of communicating love and concern. His awareness came after a heart attack and he is now a popular public speaker.
There was also a great round-table sharing session with lots of ideas shared on coping with our disorders. Certificates of Appreciation were presented to three different groups who support the SPF.
The Austin group now plans to meet quarterly. Please contact Marlene.
---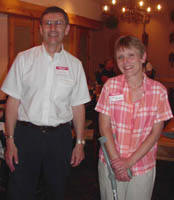 Denver, Colorado, July. The first Colorado Connections was a Luncheon Conference organized by Dale Rutschow and Lisa Nichols (at right) at the Canyon Cafe restaurant. The event featured Yvonne Rollins, M.D., an MDA researcher who studies motor neuron diseases. Her presentation was "HSP and PLS: comparison and treatment of spasticity".
Not only did the twenty-nine attendees find the presentation informative and helpful, but Dr. Rollins was able to recruit many new subjects for critical research. Plans are to hold the next event in January. Contact Dale.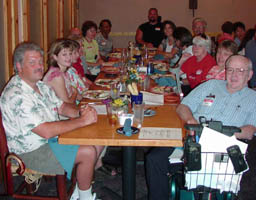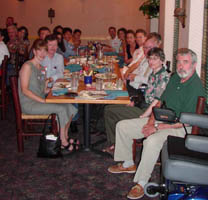 ---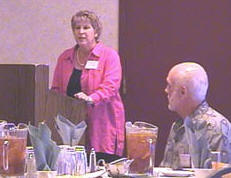 Phoenix, AZ; June. A fabulous Connections Conference organized by Bonnie Guzelf was attended by individuals from across the country. To add to the weekend, a Hot Air Balloon outing was organized by Liz Nussear. Please go to Phoenix to see a full summary and lots of photos.
---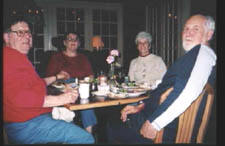 Albany, NY; June. When John and Rita (at left) traveled to Albany, they arranged through PLS Friends to meet up with Cookie and Bill for a casual Connections. They had a great afternoon of getting to know one another and swapping stories.
---
Austin, TX; June 2003. A Learn to Windsurf Day benefit was held on June 7 in Austin Texas. $700 was raised for the Research Fund. Thanks go to Marlene (SPF Secretary) and her husband Carroll Doolen. Marlene has had to give up her windsurfing hobby due to HSP, however, they are still active with the group and Carroll still enjoys the sport. Please contact Marlene.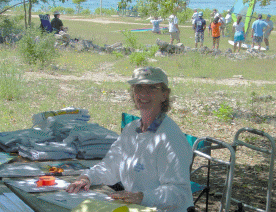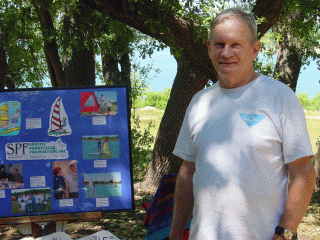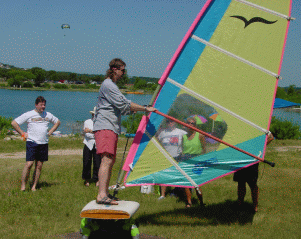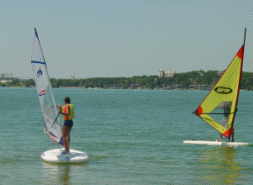 ---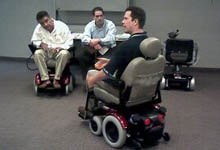 Ft. Myers, FL; June. A Connections Conference organized by Carol Liquori and Ann White was held at Lee Memorial Hospital, Fort Myers, for nearly twenty people. A full agenda included programs on Mobility Products, Lifeline Medical Alert, Intrathecal Baclofen Pump, Theft Identity, and The Great Balancing Act – "Avoiding Falls".
The Ft. Myers event was the follow-up meeting after the Ft. Lauderdale meeting earlier in the year. The group hopes to hold future meetings in Florida, with sites set next on Orlando. Contact Ann.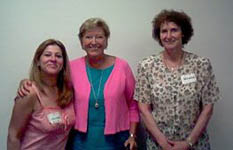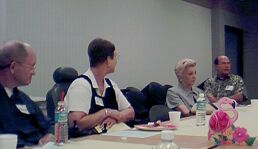 ---
Chicago, Illinois, April. The first Illinois Connections Conference was a "Dinner with the Experts", featuring Dr. Teepu Siddique from Northwestern University (far left). Dr. Siddique's laboratory is dedicated to ALS and other neurodegenerative disorders and was on the research team that discovered two genes responsible for hereditary forms of ALS, one of which also causes a juvenile form of PLS. There were 27 attendees with many pictured in the photo.

---
Berkley Springs, West VA; April. The 3rd annual Spring Fling social weekend, organized by Ronnie Grove, was held April 4-5. A dinner social was held Friday night and organized by Ronnie's mother. Saturday featured a fun day of enjoying everyone's company and the delicious treats that many people brought to share. Six of the 24 attendees were meeting "others" for the first time and one later commented, "I now face the future with a bit more confidence than what I had last Friday morning."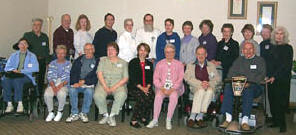 Ronnie (front row in green) organizes her annual Spring Fling event to provide a low-key opportunity for individuals and loved ones to gather, share stories, learn from one another and have fun.
---
Atlanta, GA; April. An Atlanta Coffee Gathering, organized by Kay Bell, was a great opportunity to meet people with HSP and PLS. Conversation centered around managing the daily walk with the disorder and dealing with challenges. The National Ataxia Foundation Meeting was being held at the same time at the hotel, which provided an opportunity to see and talk to vendors providing products and services for people with disabilities.
One attendee remarked: "I have never met a fellow HSPer or PLSer until the gathering. Some of us needed reassurance and a shoulder to lean on. All who came to the gathering left with a smiling face and a positive attitude. HSP and PLS may be rare disorders, and our numbers are few, but we are one and that is what the coffee gathering was all about."
Kay is seated in the photo on the left. She runs a monthly Support Group meeting in the Los Angeles area for the Ataxia Foundation which includes people with HSP and PLS as a partnership group.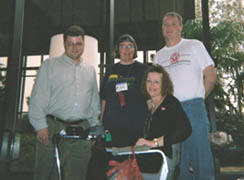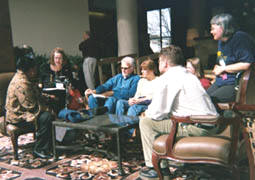 ---
Boston, MA area; April. The quarterly meeting for the Massachusetts Chapter was held in Woburn at the Sheraton Inn. The Lunch Connections Conference entitled "A Balancing Act" attracted twenty-six people and featured an informative presentation by Joann Moriarty-Baron, PT from Southern New Hampshire Physical Therapy.
There was also a special Round-Table discussion of "What Helps You Keep Your Balance in Life", with common themes including family, prayer, exercise, laughter, and hobbies. Dawn Lucier, P.T., from Medtronic gave a short program on the Baclofen Pump.
This group meets quarterly for various events including National Conference, Lunch Connections Conferences and general support group meetings and outings. Contact Kathi Geisler.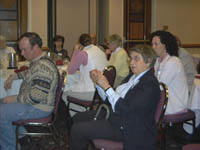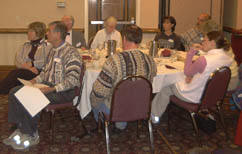 ---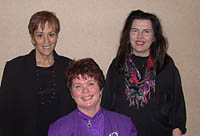 Richmond, British Columbia, Canada; February. The first Canada Connection Conference attracting 26 people was held at the Richmond Inn and organized by Jean Chambers, Sue Hunter, and Margaret Scott, at right.
Keynote speaker was Sian Spacey, M.D., from The University of B.C. After the presentation, there was a lengthy question and answer period. During lunch, people had the opportunity to check out a variety of assistive devices on display thanks to John Russell, Shoppers Home Care. Marie Loh, a pharmacist from London Drugs, spoke about drugs to treat spasticity, bladder/bowel difficulty and pain. Kenn Quayle & Brian Mackenzie led a discussion on care giving.
The day wound down with a casual chat/sharing exchange. All agreed it was a fabulous event and appreciated the opportunity to meet others, share, and learn. The group intends to hold another event in the fall. Please contact Jean.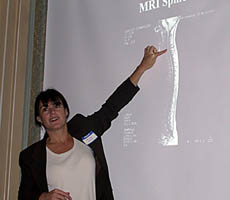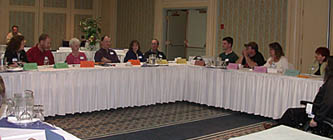 ---
Ft. Lauderdale, Florida. Twenty-two people concerned with PLS and HSP gathered for a friendly lunch gathering at the Holiday Inn. It was a great afternoon to share stories and learn from one another. Ann (green jacket in photo on left) and Carol (center in photo on right) will work to organize and facilitate Florida meetings throughout the year in various locations. The next event will be held in June in Ft. Myers. Contact Ann.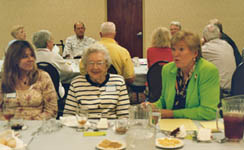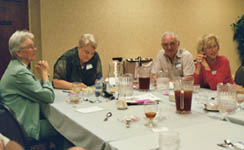 ---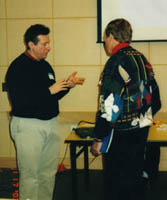 Columbus, Ohio; January. Fifty people attended the first Ohio Connections Conference, organized by Annamarie Wagner. John K. Fink, MD, University of Michigan, SPF Medical Advisor (at right on the left speaking to attendee), was the featured speaker. Dr. Fink provided an in-depth discussion of HSP and PLS and answered numerous questions.
Many people left, feeling that for the first time, they had a real understanding of their conditions. For most, it was the first time meeting others with a similar condition.
The group hopes to hold future events in Ohio.