National Corporate TeamWalk Sponsors: Millipore Foundation, Medtronic, Inc., Athena Diagnostics, TICOM, Inc., Pezold Companies – Columbus GA, Panasonic
From across the country and Canada, 130 people joined hearts and hands for the 2003 TeamWalk For Our Cures in Massachusetts. The weekend featured the national "Research and Beyond" Conference, a spectacular TeamWalk walkathon and social gatherings and outings on Friday and Saturday evenings. The TeamWalk fundraising tally announced at the culmination of the TeamWalk walkathon: $141,700! News article News article Panasonic Newsletter article
---
Researcher and Beyond Conference highlights (more Conference photos - allow loading time)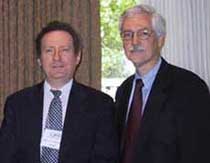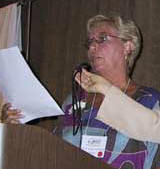 Robert Brown, Jr., M.D., of Mass General Hospital (right in photo at left), leading investigator of ALS and other neurodegenerative conditions and keynote speaker, reviewed current advancements in exploration of potential therapies relevant to SPF disorders. Additionally, John K. Fink, M.D., University of Michigan, SPF Medical Advisor (left, at left) presented two "HSP Heredity" afternoon breakout sessions, highlighting the progress in gene discovery and development of mouse models. Kara Houde Ng, MS, Genetic Counselor from Athena Diagnostics, gave information on gene testing in those sessions.
Special programs included Community Voices speaker Carolyn Sartain Anderson, SPF board member (right), who recalled a high school writing assignment entitled: "Adversity is the abrasive that puts an edge on courage". It was not until decades later through her personal health battle that she came to understand the meaning of that statement. Additionally, Recognition Awards were presented to Cheryl Stapley, SPF volunteer and Mark Weber, Esq., SPF President, for creating the HSP and PLS email support groups. These enabled individuals to finally connect with others. The subsequent development of these online patient communities lead to the formation of our Foundation.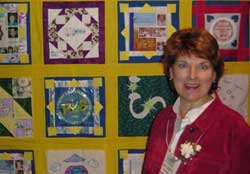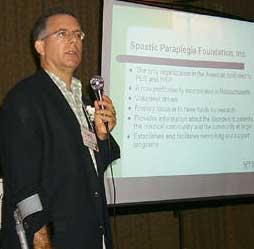 Mark, left, reviewed the history of the Spastic Paraplegia Foundation and its position as the only organization dedicated to upper motor neuron disorders. See slideshow (click arrows at top for each page). Launched in January 2002 and headquartered in Massachusetts, the Foundation's primary focus is raising funds for research for research. The organization also seeks to provide information and support programs. Mark introduced the SPF Board of Directors. He also explained the SPF Research Grant Program and outlined the Scientific Advisory Board (SAB), chaired by Martha Nance, M.D., Minnesota. Seven proposals are under review for consideration of the first two $40,000 SPF research grants. They will be awarded later this year.
An afternoon highlight was the unveiling of the newest Awareness Quilt panel, coordinated by board member Linda Gentner, right, and crafted by volunteer Margaret Twichell. The first panels were made in 2000 by members of the HSP community. This new one highlights the PLS community, formation of the SPF and TeamWalk for our Cures. Early quilt panels were also on display.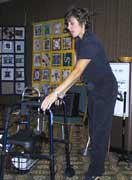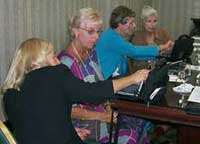 "Walking Straight: Choosing and Using Adaptive Equipment" was presented by JoAnn Moriarity-Baron, P.T., Southern New Hampshire Rehabilitation Center (left) with the help of Michael Schleipfer from Alternative Care Providers, Inc. (Chelmsford, MA). JoAnn demonstrated several assistive devices and answered numerous questions.
Break-out sessions included Spouses and Significant Others, by Craig Gentner; Individual Consultations with JoAnn and Michael; Speech Augmentative Devices with Jean Hightower, Health Science, featuring Enkidu and a Baclofen Pump presentation by Kelly Emmett, P.T., Braintree Rehabilitation. In honor of the TeamWalk walkathon location, a Revolutionary War program was presented by Joseph Andrews, M.D., Founder and Director, Concord Guides and author of Revolutionary Boston, Lexington and Concord; The shots heard round the world!
Annette Lockwood, SPF board member, closed the Conference by sharing poems she and her son wrote about life with HSP. Their messages clearly echoed the Foundation's vision of finding the cures for HSP and PLS.
A Conference Video will be available for purchase. Please watch for announcements at the website, E-News and through the daily email support groups.
---
TeamWalk Walkathon features first public appearance of IBOT and raises $141,700 (more TeamWalk photos - allow loading time)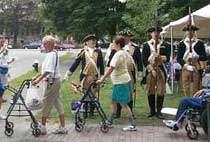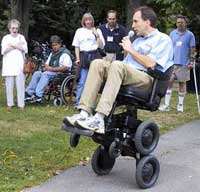 Some 130 people turned out for the TeamWalk walkathon in Lexington. The TeamWalk tent was erected on the grounds of the Lexington Visitor's Center and served as headquarters for check-in, collection of sponsorships, TeamWalk t-shirt distribution, Walker by Proxy Photo Boards, socializing and lunch. The Visitor's Center provided tourist information, a souvenir Gift Shop and a diorama of the Battle of Lexington.
Early morning highlights were demonstrations of the IBOT wheelchair, approved last August by the FDA. Engineer Jim Turner from Deka Research, who helped create the sensational wheelchair, showed how it can easily raise to eye level as well as climb stairs. He later drove the IBOT for part of the walkathon.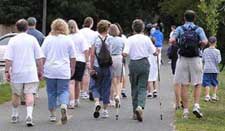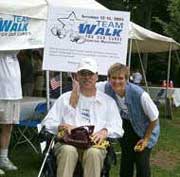 Other pre-TeamWalk walkathon morning activities included a Stretch and Get Set program by Rose Wolanski, P.T., a performance by the William Diamond Junior Fife and Drum Corps and a salute and send-off by the uniformed Minute Man Company.
Many local friends and family members joined TeamWalk Weekend attendees for the TeamWalk walkathon. Left, Kathi Geisler, committee chairman, helps Bob Swain, who led the walkathon, get ready for the three-mile route along the Minuteman Bikeway path and Lexington Center roadways. The route was set up in three Loops, each approximately one mile. Individuals accomplished as much (or as little) as they were comfortable doing. As people returned to the TeamWalk tent, they enjoyed lunch, camaraderie and visited the Visitor's Center and surrounding shops and tourist sites. The event concluded with David Lewis, SPF Treasurer, announcing the TeamWalk total: $141,700.
---
Weekend social gatherings provide opportunities for support, networking and fun

Nearly seventy people gathered for the Friday evening Arrival Dinner at the Four Points Sheraton. The low-key evening allowed people to get re-acquainted with old friends, meet new ones, share and learn from one another. Liz Nussear, right, provided a Community Voices talk, sharing her story of HSP and how that has led to unexpected silver linings. For her, those include running a monthly support group for people with neurological conditions and participating in the SPF email support group. She challenged the group to think about what's important in their lives and to set personal, short-term goals.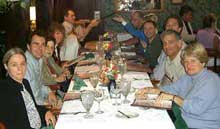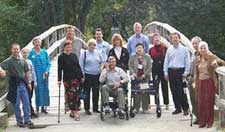 The Saturday evening outing, organized by Jim Campbell, featured a visit to the historic North Bridge in Concord, site of the "shot heard round the world" and the beginning of the Revolutionary War. Many people had their photos taken at the famous Minuteman Statue. The group also enjoyed dinner at Concord's Colonial Inn. The Inn was built in 1716 and has operated as a hotel since 1889, retaining the original Revolutionary War period theme and giving the group a glimpse back in time.
---
TeamWalk For Our Cures Committee Members
Kathi Geisler, Chairman
Doug Brand, Thurza and Jim Campbell, Rita and John DiClemente, Ed Geisler, Linda Gentner, Maureen Hall, Ellen Kinsman, Joel and Bobbie Seidman, Bob and Marie Swain and John Swain

Thanks to our Local Sponsors and Friends who provided a helping hand
Stop and Shop, The Red Apple, Harry's and Harry's Too Restaurants in Westborough, Alternative Care Providers, Hancock United Church of Christ, Minute Man Company, Lexington Lions Club and Sherborn, MA Fire Dept