Pro-Line Series
Technical Station Model TSHD
One great workbench, one great price, one easy to order part number.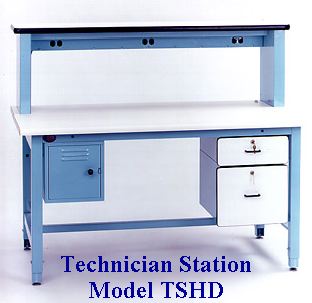 The Model TSHD comes complete as shown. Price includes base unit 30" or 36" deep and 60" or 72" long. (Work surface adjusts from 30" to 36".) Two modular drawers 6" and 12" with laminate face. Personal padlock drawer with hanging kit. Riser is 12" deep x 18" high with six pre-wired outlets. A 90 degree rolled front edge. ESD stations include ESD work surface and ESD shelf surface and a standard ground kit with two banana jacks.
The Model TSHD is in stock with white surfaces and light blue frames.
Note: Front brace of riser removed to show electrical outlets.
Specifications
60"L x 30"W x 30 to 36" H
Top Work Surface
Stock #
Wt.
In Stock?
Plastic Laminate
TSHD6030PL
254
Yes
ESD Laminate, Conductive
TSHD6030C
255
Yes
60"L x 36"W x 30 to 36" H
Top Work Surface
Stock #
Wt.
In Stock?
Plastic Laminate
TSHD6036PL
264
Yes
ESD Laminate, Conductive
TSHD6036C
265
Yes
72"L x 30"W x 30 to 36" H
Top Work Surface
Stock #
Wt.
In Stock?
Plastic Laminate
TSHD7230PL
278
Yes
ESD Laminate, Conductive
TSHD7230C
278
Yes
72"L x 36"W x 30 to 36" H
Top Work Surface
Stock #
Wt.
In Stock?
Plastic Laminate
TSHD7236PL
288
Yes
ESD Laminate, Conductive
TSHD7236C
288
Yes

top of page