Pro-Line Series
Pro-line Basics Workbench
The Basics is similar in design to our Flexline workbench system.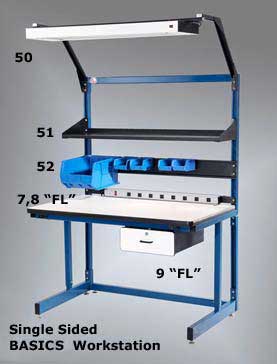 The accessory uprights are included in the base station and the work surface adjusts from 30" to 36" high on 1" increments. From floor to top of frame is 65" high. The Basics station and frame bolt together to keep freight cost down and to minimize storage space when not in use.
The Basics is available as a single sided stand alone station or a double sided stand alone station. To help keep cost down, add-on stations are available for both the single sided and double sided stations.
Standard Configurations
Single Sided stations come complete with frame, two top supports, two horizontal leg supports and one worksurface.
Double Sided stations come complete with frame, four top supports, four horizontal leg supports and two worksurfaces.
Add-on stations share a top support and a horizontal leg.
Colors
Frames are painted with a durable circuit blue powder coat.
Options are painted with a durable textured black powder coat
Note: Illustration includes optional accesories. "In Stock" Optional Accessories , #7, 8 and 9 shown, can be ordered - use suffix FL to denote use on a BASICS station model. Get your copy of our Newest Catalog to see all the possibilities.
Specifications
The Basics - Single Sided
Single Sided Starter Stations: 48"L x 30"W
Top Work Surface
Stock #
Wt.
In Stock?
Plastic Laminate
B4830SSPL
110
No
ESD Laminate, Conductive
B4830SSESD
110
No
Single Add-Ons: 48"L x 30"W
Top Work Surface
Stock #
Wt.
In Stock?
Plastic Laminate
B4830SAPL
100
No
ESD Laminate, Conductive
B4830SAESD
100
No
Single Sided Starter Stations: 60"L x 30"W
Top Work Surface
Stock #
Wt.
In Stock?
Plastic Laminate
B6030SSPL

140

Yes
ESD Laminate, Conductive
B6030SSESD

140

Yes
Single Add-Ons: 60"L x 30"W
Top Work Surface
Stock #
Wt.
In Stock?
Plastic Laminate
B6030SAPL
130
Yes
ESD Laminate, Conductive
B6030SAESD
130
Yes
Single Sided Starter Stations: 72"L x 30"W
Top Work Surface
Stock #
Wt.
In Stock?
Plastic Laminate
B7230SSPL

170

Yes
ESD Laminate, Conductive
B7230SSESD

170

Yes
Single Add-Ons: 72"L x 30"W
Top Work Surface
Stock #
Wt.
In Stock?
Plastic Laminate
B7230SAPL
160
Yes
ESD Laminate, Conductive
B7230SAESD
160
Yes
The Basic - Double Sided
Double Sided Starter Stations: 48"L x 30"W
Top Work Surface
Stock #
Wt.
In Stock?
Plastic Laminate
B4830DSPL
179
No
ESD Laminate, Conductive
B4830DSESD
179
No
Double Add-Ons: 48"L x 30"W
Top Work Surface
Stock #
Wt.
In Stock?
Plastic Laminate
B4830DAPL
219
No
ESD Laminate, Conductive
B4830DAESD
219
No
Double Sided Starter Stations: 60"L x 30"W
Top Work Surface
Stock #
Wt.
In Stock?
Plastic Laminate
B6030DSPL
229
Yes
ESD Laminate, Conductive
B6030DSESD
229
Yes
Double Add-Ons: 60"L x 30"W
Top Work Surface
Stock #
Wt.
In Stock?
Plastic Laminate
B6030DAPL
269
Yes
ESD Laminate, Conductive
B6030DAESD
269
Yes
Double Sided Starter Stations: 72"L x 30"W
Top Work Surface
Stock #
Wt.
In Stock?
Plastic Laminate
B7230DSPL

279

Yes
ESD Laminate, Conductive
B7230DSESD

279

Yes
Double Add-Ons: 72"L x 30"W
Top Work Surface
Stock #
Wt.
In Stock?
Plastic Laminate
B7230DAPL
319
Yes
ESD Laminate, Conductive
B7230DAESD
319
Yes
Options for the Basic Model
Option
Stock #
Wt.
In Stock?
48" Bin Holder
BBH48
10
No
60" Bin Holder
BBH60
13
Yes
72" Bin Holder
BBH72
16
Yes
48" Metal Cantilever Shelf 48"L x 12"D
BMCS1248
22
No
60" Metal Cantilever Shelf 60"L x 12"D
BMCS1260
27
Yes
72" Metal Cantilever Shelf 72"L x 12"D
BMCS1272
32
Yes
48" Overhead Light and Frame
BOLF48
28
No
60" Overhead Light and Frame
BOLF60
30
Yes
72" Overhead Light and Frame
BOLF72
32
Yes

top of page