Pro-Line Series
Ergo-Line Heavy Duty Workbench
A full 750 lbs. Capacity vertical adjust station for the heavy duty applications our standard 330 lbs. capacity Ergo-Line does not address.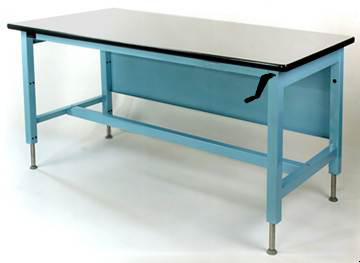 Height range 12"
Standard height adjustment 30" to 42". Special height ranges can be provided at additional cost.
Crank handle mounts into front of right or left leg. Please indicate your preference when ordering.
Price includes modesty panel and footrest.
Optional Accessories: All our "In Stock" Optional Accessories are available for the Ergo-Line HD Models. Select just what you need for your Workstation.
ELECTRIFY Your HD Ergo-Line:
Order Electric Hydraulic Push Button Height Adjustment for your HD Ergo-Line Workstation. Change the Stock Number Prefix to "ELHE"
Call for pricing.
Specifications
48"L x 30"W x Hand Crank Height 30" to 42"
Top Work Surface
Stock #
Wt.
In Stock?
Plastic Laminate
ELH4830PL
125
No
ESD Laminate, Conductive
ELH4830ESD
125
No
Solid Maple, 1.75"
ELH4830SM
150
No
48"L x 36"W x Hand Crank Height 30" to 42"
Top Work Surface
Stock #
Wt.
In Stock?
Plastic Laminate
ELH4836PL
133
No
ESD Laminate, Conductive
ELH4836ESD
133
No
Solid Maple, 1.75"
ELH4836SM
160
No
60"L x 30"W x Hand Crank Height 30" to 42"
Top Work Surface
Stock #
Wt.
In Stock?
Plastic Laminate
ELH6030PL
140
No
ESD Laminate, Conductive
ELH6030ESD
140
No
Solid Maple, 1.75"

ELH6030SM

170
No
60"L x 36"W x Hand Crank Height 30" to 42"
Top Work Surface
Stock #
Wt.
In Stock?
Plastic Laminate
ELH6036PL
150
No
ESD Laminate, Conductive
ELH6036ESD
150
No
Solid Maple, 1.75"
ELH6036SM
170
No
72"L x 30"W x Hand Crank Height 30" to 42"
Top Work Surface
Stock #
Wt.
In Stock?
Plastic Laminate
ELH7230PL
155
No
ESD Laminate, Conductive
ELH7230ESD
155
No
Solid Maple, 1.75"
ELH7230SM
192
No
72"L x 36"W x Hand Crank Height 30" to 42"
Top Work Surface
Stock #
Wt.
In Stock?
Plastic Laminate
ELH7236PL
165
No
ESD Laminate, Conductive
ELH7236ESD
165
No
Solid Maple, 1.75"
ELH7236SM
209
No
96"L x 30"W x Hand Crank Height 30" to 42"
Top Work Surface
Stock #
Wt.
In Stock?
Plastic Laminate
ELH9630PL
165
No
ESD Laminate, Conductive
ELH9630ESD
165
No
Solid Maple, 1.75"
ELH9630SM
192
No
96"L x 36"W x Hand Crank Height 30" to 42"
Top Work Surface
Stock #
Wt.
In Stock?
Plastic Laminate
ELH9636PL
165
No
ESD Laminate, Conductive
ELH9636ESD
165
No
Solid Maple, 1.75"
ELH9636SM
209
No

top of page