Pro-Line Series
Flex-Line Ergonomic Workbench
The Flex-Line Panel System allows tops and accessories to be supported off both sides to afford additional workbench flexibility - single and/or dual sided placement of stations.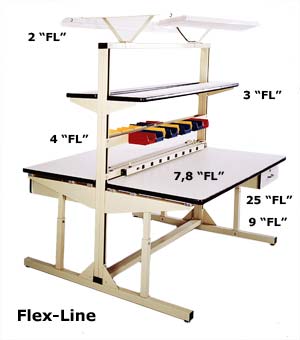 (Shown as double sided unit.)
Includes open frame supports and work surface.
When ordering accessories for Flex-Line Stations, add "FL" to end of part number.
Overall height 69" without light.
Please specify workbench to ship KD or fully assembled.
Optional Accesories: The illustration includes Optional Accessories: #2, 3, 4, 7, 8, 9, and 25. More items are present in our Newest Catalog. Get your copy today.
Accessories for LAN Workstations: Flex-Line Workbenches make excellent L.A.N./Computer choices. See Model LNFL for Accessories & Options with your current or future Flex-Line System.
Specifications
48" L x 30" W
Top Work Surface
Stock #
Wt.
In Stock?
Plastic Laminate, Single Side
FL4830PL
129
No
ESD Laminate, Single Side
FL4830ESD
129
No
Plastic Laminate, Double Side
FL4830PLD
198
No
ESD Laminate, Double Side
FL4830ESDD
198
No
60" L x 30"W
Top Work Surface
Stock #
Wt.
In Stock?
Plastic Laminate, Single Side
FL6030PL
159
No
ESD Laminate, Single Side
FL6030ESD
159
No
Plastic Laminate, Double Side
FL6030PLD
241
No
ESD Laminate, Double Side
FL6030ESDD
241
No

top of page