Pro-Line Series
Enclosed Cabinet Workbench
Enclosed Cabinet Bench with Sliding Doors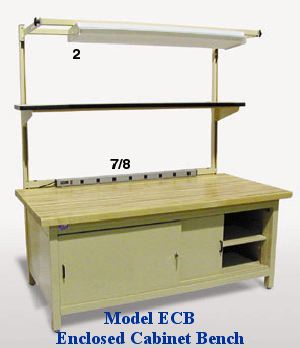 The ECB/HD Enclosed Cabinet Bench, built on the Model HD frame, has been in use since 1979. This station allows you to neatly store and secure items in your plant. With our modular design you can easily add accessories to make this workbench meet your requirement.
Shown with optional light shelf and power supply.
(Standard height 30" high)
Optional Accesories: The ECB illustration includes , detailed below. "In Stock" Optional Accessories , #7, 8 and 2 shown, can be ordered. Get your copy of our Newest Catalog to see all the possibilities. Get your copy today.
Specifications
48"L x 30"W x 30" H
Top Work Surface
Stock #
Wt.
In Stock?
Plastic Laminate
ECB/HD4830PL
225
No
ESD Laminate, Conductive
ECB/HD4830ESD
225
No
Solid Maple, 1.75"
ECB/HD4830SM
255
No
48"L x 36"W x 30" H
Top Work Surface
Stock #
Wt.
In Stock?
Plastic Laminate
ECB/HD4836PL
235
No
ESD Laminate, Conductive
ECB/HD4836ESD
235
No
Solid Maple, 1.75"
ECB/HD4836SM
265
No
60"L x 30"W x 30" H
Top Work Surface
Stock #
Wt.
In Stock?
Plastic Laminate
ECB/HD6030PL
240
No
ESD Laminate, Conductive
ECB/HD6030ESD
240
No
Solid Maple, 1.75"
ECB/HD6030SM
270
No
60"L x 36"W x 30" H
Top Work Surface
Stock #
Wt.
In Stock?
Plastic Laminate
ECB/HD6036PL
249
No
ESD Laminate, Conductive
ECB/HD6036ESD
249
No
Solid Maple, 1.75"
ECB/HD6036SM
279
No
72"L x 30"W x 30" H
Top Work Surface
Stock #
Wt.
In Stock?
Plastic Laminate
ECB/HD7230PL
264
No
ESD Laminate, Conductive
ECB/HD7230ESD
264
No
Solid Maple, 1.75"
ECB/HD7230SM
294
No
72"L x 36"W x 30" H
Top Work Surface
Stock #
Wt.
In Stock?
Plastic Laminate
ECB/HD7236PL
274
No
ESD Laminate, Conductive
ECB/HD7236ESD
274
No
Solid Maple, 1.75"
ECB/HD7236SM
325
No

top of page