Pro-Line Series
Heavy Duty Pedestal Workbench
Heavy Duty Pedestal Workbenches (Series "PCP") featuring Heavy Duty Modular Cabinets 18" Wide x 26" Deep.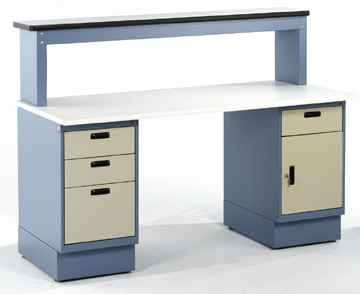 Drawers feature 95% extension slides with 100 Lb. capacity per drawer. Drawer insides are slotted to accept optional dividers every 1" for optimal organization.
Stations shown with 6" high base. Overall height of station with Plastic Laminate or ESD Laminate worksurface is 35.5" set at the lowest point. Overall height with Solid Maple surface is 36" set at the lowest point.
Glides allow for 1" of adjustment (Other heights available).
When ordering two tone color scheme, please specify desired colors for housings and drawers.
NOTE: Shown with Optional Risers . 90 degree rolled front edge is an up charge. Standard and ESD surfaces come with T Mold edges standard.
Specifications
Part
Number
Plastic
Laminate
E.S.D
Laminate
Solid 1 3/4
Maple
60"Lx30"
PCP6030APL
PCP6030AESD
PCP6030ASM
Wgt. (lbs.) 279
Wgt. (lbs.) 279
Wgt. (lbs.) 311
72"Lx30"
PCP7230APL
PCP7230AESD
PCP7230ASM
Wgt. (lbs.) 291
Wgt. (lbs.) 291
Wgt. (lbs.) 328
60"Lx30"
PCP6030BPL
PCP6030BESD
PCP6030BSM
Wgt. (lbs.) 234
Wgt. (lbs.) 234
Wgt. (lbs.) 266
72"Lx30"
PCP6030BPL
PCP6030BESD
PCP6030BSM
Wgt. (lbs.) 246
Wgt. (lbs.) 246
Wgt. (lbs.) 283
60"Lx30"
PCP6030CPL
PCP6030CESD
PCP6030CSM
Wgt. (lbs.) 256
Wgt. (lbs.) 256
Wgt. (lbs.) 288
72"Lx30"
PCP6030CPL
PCP6030CESD
PCP6030CSM
Wgt. (lbs.) 268
Wgt. (lbs.) 268
Wgt. (lbs.) 305
60"Lx30"
PCP6030DPL
PCP6030DESD
PCP6030DSM
Wgt. (lbs.) 256
Wgt. (lbs.) 256
Wgt. (lbs.) 308
72"Lx30"
PCP6030DPL
PCP6030DESD
PCP6030DSM
Wgt. (lbs.) 288
Wgt. (lbs.) 288
Wgt. (lbs.) 325
60"Lx30"
PCP6030EPL
PCP6030EESD
PCP6030ESM
Wgt. (lbs.) 264
Wgt. (lbs.) 264
Wgt. (lbs.) 296
72"Lx30"
PCP6030EPL
PCP6030EESD
PCP6030ESM
Wgt. (lbs.) 276
Wgt. (lbs.) 276
Wgt. (lbs.) 313
60"Lx30"
PCP6030FPL
PCP6030FESD
PCP6030FSM
Wgt. (lbs.) 290
Wgt. (lbs.) 290
Wgt. (lbs.) 322
72"Lx30"
PCP6030FPL
PCP6030FESD
PCP6030FSM
Wgt. (lbs.) 302
Wgt. (lbs.) 302
Wgt. (lbs.) 302
60"Lx30"
PCP6030GPL
PCP6030GESD
PCP6030GSM
Wgt. (lbs.) 284
Wgt. (lbs.) 284
Wgt. (lbs.) 316
72"Lx30"
PCP6030GPL
PCP6030GESD
PCP6030GSM
Wgt. (lbs.) 296
Wgt. (lbs.) 296
Wgt. (lbs.) 333
60"Lx30"
PCP6030HPL
PCP6030HESD
PCP6030HSM
Wgt. (lbs.) 300
Wgt. (lbs.) 300
Wgt. (lbs.) 332
72"Lx30"
PCP6030HPL
PCP6030HESD
PCP6030HSM
Wgt. (lbs.) 312
Wgt. (lbs.) 312
Wgt. (lbs.) 349
60"Lx30"
PCP6030IPL
PCP6030IESD
PCP6030ISM
Wgt. (lbs.) 312
Wgt. (lbs.) 312
Wgt. (lbs.) 344
72"Lx30"
PCP6030IPL
PCP6030IESD
PCP6030ISM
Wgt. (lbs.) 324
Wgt. (lbs.) 324
Wgt. (lbs.) 361
60"Lx30"
PCP6030JPL
PCP6030JESD
PCP6030JSM
Wgt. (lbs.) 307
Wgt. (lbs.) 307
Wgt. (lbs.) 339
72"Lx30"
PCP6030JPL
PCP6030JESD
PCP6030JSM
Wgt. (lbs.) 319
Wgt. (lbs.) 319
Wgt. (lbs.) 356
60"Lx30"
PCP6030KPL
PCP6030KESD
PCP6030KSM
Wgt. (lbs.) 284
Wgt. (lbs.) 284
Wgt. (lbs.) 316
72"Lx30"
PCP6030KPL
PCP6030KESD
PCP6030KSM
Wgt. (lbs.) 296
Wgt. (lbs.) 296
Wgt. (lbs.) 333
60"Lx30"
PCP6030LPL
PCP6030LESD
PCP6030LSM
Wgt. (lbs.) 147
Wgt. (lbs.) 147
Wgt. (lbs.) 180
72"Lx30"
PCP6030LPL
PCP6030LESD
PCP6030LSM
Wgt. (lbs.) 162
Wgt. (lbs.) 162
Wgt. (lbs.) 177
60"Lx30"
PCP6030MPL
PCP6030MESD
PCP6030MSM
Wgt. (lbs.) 158
Wgt. (lbs.) 158
Wgt. (lbs.) 190
72"Lx30"
PCP6030MPL
PCP6030MESD
PCP6030MSM
Wgt. (lbs.) 170
Wgt. (lbs.) 170
Wgt. (lbs.) 207
60"Lx30"
PCP6030NPL
PCP6030NESD
PCP6030NSM
Wgt. (lbs.) 175
Wgt. (lbs.) 175
Wgt. (lbs.) 207
72"Lx30"
PCP6030NPL
PCP6030NESD
PCP6030NSM
Wgt. (lbs.) 187
Wgt. (lbs.) 187
Wgt. (lbs.) 224
60"Lx30"
PCP6030OPL
PCP6030OESD
PCP6030OSM
Wgt. (lbs.) 182
Wgt. (lbs.) 182
Wgt. (lbs.) 214
72"Lx30"
PCP6030OPL
PCP6030OESD
PCP6030OSM
Wgt. (lbs.) 194
Wgt. (lbs.) 194
Wgt. (lbs.) 231
60"Lx30"
PCP6030PPL
PCP6030PESD
PCP6030PSM
Wgt. (lbs.) 182
Wgt. (lbs.) 182
Wgt. (lbs.) 214
72"Lx30"
PCP6030PPL
PCP6030PESD
PCP6030PSM
Wgt. (lbs.) 197
Wgt. (lbs.) 197
Wgt. (lbs.) 212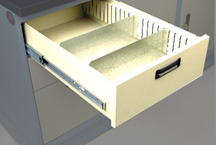 Drawer Dividers - Galvanized Steel
| | | | |
| --- | --- | --- | --- |
| Size (H) | Part No. | Wt. | Stock? |
| 3" | DD3 | 1.5 | No |
| 6" | DD6 | 2.5 | No |
| 12" | DD12 | 4.5 | No |

top of page