Welcome
Welcome to Precision Speed and Strength, where we help each athlete take their game to the next level.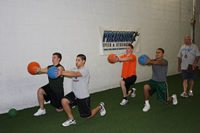 Today's athletes are faster, stronger and more competitive than ever before. At Precision we work with each athlete on their individual needs to help them in improving their strength, agility and speed in order to become better at their particular sport. We offer you New England's best in speed and strength conditioning coaches and our knowledge and experience is unsurpassed.
The contents of the page could not be displayed.
This can be caused by the following reasons:
Microsoft Internet Explorer blocks the flash content on your page.
Click the warning in the upper part of the browser and select the Allow Blocked Content... option to continue opening the page.


You need to install or upgrade your Flash Player.
Please visit the Adobe site to download and install the latest version of the Flash Player necessary to be able to display the contents of this page
PDF Schedules
Newest Partners
Precision Speed and Strength welcomes one of Boston's leading Orthopedic Surgeons Dr John J. Tierney, D.O. and Greater Boston Orthopedic Center as a new partner. More »

Performance Based Nutrition for Athletes: Because Precision Speed and Strength is committed to expanding the network of resources for our athletes and because we value the role nutrition plays in performance and
overall health, we are pleased to announce our alignment with
Kinetic Fuel, LLC. More »
Please come in and check out our programs!
NEW PROGRAMS COMING SOON!!!!



Testimonials
"Precision 's Summer Speed and Strength program was extermely helpful in preparing me for my debut hockey season with Providence College."

-Chris Rooney

Class of 2013



---
---
Training At...

345 University Ave
Westwood, MA 02090
781-329-8220