ATM Safety Tips
Eagle Bank Debit Card

You can pay for your purchases without cash, checks or credit cards. And have quick and easy access to cash and your Eagle Bank checking account 24-hours a day. Pay for purchases anywhere you see the MasterCard®, NYCE® and Cirrus® symbols. It's safer than carrying cash and easier than writing checks, and unlike credit cards, there are no monthly bills or finance charges. What's more? Point of sale debit card transactions are free at Eagle Bank!
Click here to find out how to better protect yourself when shopping online.

---
As a member of the SUMSM ATM network, Eagle Bank customers have access to over 2,800 surcharge-free1 ATMs statewide.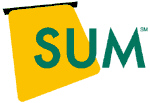 Click on the SUM logo to find an ATM near you.
---
STAY ALERT
Be aware of your surroundings and people in the area of an ATM.
Know your ATM. Familiarize yourself with your ATM. Is there anything different about the machine since the last time you used it? A false front placed in the dispenser output area of an ATM can prevent currency from being removed. The customer, assuming the machine has malfunctioned, departs, leaving the cash to be retrieved by a thief. If the display on your ATM has changed, or if the design of the machine has been altered since the last time you used it, it may have been tampered with.
Beware of any device that asks you to swipe your card before inserting it into the ATM, even if it looks genuine. Many thieves use false card readers or "skimmers" - devices that can be place near or on the actual card reader input slot. These devices are often accompanied by legitimate-looking signage instructing ATM customers to swipe their cards, either for an additional level of security or as a way to "clean" the card. When used, the device records the information stored on the card's magnetic track, retaining it for later download by the thief or for immediate transmission via radio signal.
Park your car as close to the ATM as possible without blocking traffic. Don't park where another vehicle can block you in.
When you are in a vestibule, close the entry door completely upon entering and exiting, and do not offer entry to strangers.
If you are walking to an ATM on the street, stay alert and do not linger at the machine.
At a drive-up ATM, keep your engine running, lock all your doors, and open only the driver's window.
Beware of "helpful" strangers at the ATM. If you are offered help while you're using an ATM, always assume you may be at risk for theft or fraud. Card trapping is a method of theft that involves the use of a device that is placed in the ATM's card slot. This device can retain or "trap" you card. Seeing that the card has been trapped, the "helpful" stranger suggests the customer re-enter his or her personal identification number (PIN) to facilitate the card's return. What the ATM user doesn't realize is that the thief has just watched the entry of his or her PIN.

When the card doesn't return and the customer departs without it, the thief is left to retrieve the card and is able to access the customer's funds by using the card along with the PIN they observed the customer enter. Never enter your PIN at the suggestion of a stranger and notify your bank immediately if you are the victim of suspicious activity.
If someone or something in the area makes you feel uncomfortable, trust your instincts - cancel the transaction and go use another ATM.
BE BRIGHT
If you need to use an ATM after dark, bring a friend whenever possible and always choose ATMs that are well lit.
For added security, use ATM locations where the activity is recorded by a surveillance camera. In most cases, clearly visible signs indicate that a camera is in use.
DON'T FLASH YOUR CASH
Have your ATM card ready before going to an ATM to avoid exposing your wallet or purse.
Put your money, your ATM card and your receipt in a pocket and return to your car as soon as the screen is clear. Count your money and put away your card when you are back in your locked car.
GUARD YOUR CARD
Never give your personal identification number (PIN) to anyone. Memorize your PIN and never write it on your ATM card or leave it in your wallet.
When using an ATM, stand between the machine and the person behind you so no one can see you enter your PIN.
If you suspect someone is looking over your shoulder, cancel the transaction and leave immediately.
Don't leave your ATM receipts at the ATM or dispose of them in the trash receptacle near an ATM. Keep your ATM transaction receipts until you match them against your monthly statements.
If your ATM card is lost or stolen, or if any suspicious or unauthorized ATM transactions appear on your account statements, notify your financial institution as soon as possible.
back to top
---
1Transactions at SUM ATMs are surcharge free. Other banks may impose a surcharge.