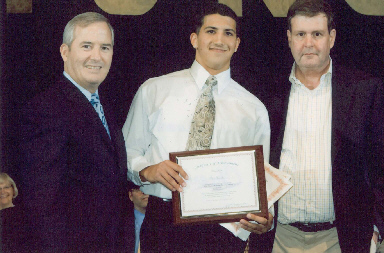 Peter Chiarello, 2008 1st Place Winner

In evaluating scholarship applications, the Committee gives primary consideration to students who meet the following criteria:
The intention to study banking, business, finance, accounting or related fields;
Financial need based on total family circumstances (income, number of children in college, financial burdens, etc.); and
Volunteer activities and community involvement
The applicants character, personality and dedication to do their best, combined with voluntary service, school activities and standing in the community will also be considered. While these are the primary considerations, they do not restrict other students from being selected so long as they meet the following eligibility requirements:
High school and preparatory school seniors who have applied to a two or four year college as a full-time student.
Applicants must reside in one of the following communities: Everett, Malden, Medford, Revere, or Lexington for at least (5) consecutive years.
Applications are now available and can be found at local libraries, at high school and preparatory school guidance offices and at all Eagle Bank locations. Applications are also available in pdf format for download. Applications must be postmarked by the date on the application.

All information requested on the application MUST be furnished or the application will be disqualified.

Finalists are invited to a personal interview with the Committee on a date in May of each year (TBA), and the winner is announced thereafter.

Please be advised that non-selected student applications (including all attachments) are shredded after the finalists have been selected. The finalists applications are kept confidential. If you have any questions, please feel free to contact Jennifer Biasetti at (617)387-5110.