What is it?
MasterCard SecureCode is a complimentary new online security service that enables you to authenticate yourself over the Internet through the use of a private code. This provides you with an additional level of security when shopping online. With this extra safeguard, you enjoy the peace of mind of knowing that unauthorized card use is far less likely at a SecureCode-enabled merchant.
How do I enroll?
You can enroll simply by clicking on the SecureCode logo above or enroll during the online purchase process.
How does that work?
The next time you shop at a participating merchant, a window from Eagle Bank will appear asking you to confirm your identity and create a private SecureCode known only to you and the Bank. The communication is entirely between you and the Bank and no information is shared with the merchant. You will be asked to answer security questions to confirm your identity prior to establishing your private code.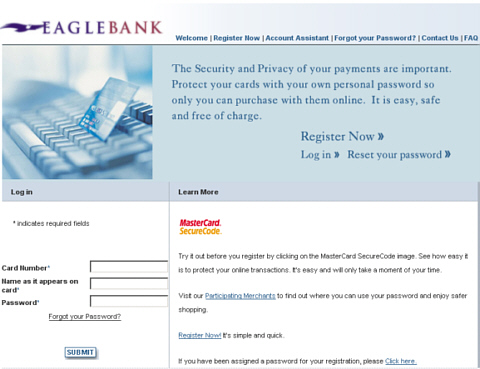 How often do I need to enroll?
Just once. Once you create your SecureCode, you can use it for all future online shopping at participating merchants.
What do I do if I forget my PIN#?
Simply click on the SecureCode logo at the top of this page.
How do I know which merchants are participating?
Visit MasterCard's website for a complete listing of participating merchants.
Am I required to enroll?
No, but we strongly encourage you to do so. SecureCode is a simple and secure way to help protect unauthorized use of your card when shopping online.

---
back to top