Our Mission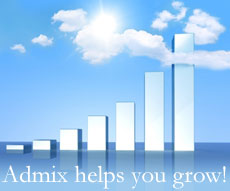 At Admix, it's our mission to improve your production capabilities with more effective mixing, reduced horsepower and optimized capital costs. We strive to provide all our customers with a payback of one year or less through the use of new technologies that will outperform your current equipment.
We engineer, market and service high performance, high efficiency mixing systems specifically for the sanitary and hygienic industries including food, dairy, meat & poultry, beverage, pharmaceutical, cosmetic and biotech.
We are committed to thoroughly understand your mixing application and provide you the best technical solution available in the market today. We stay ahead of the leading edge for the benefit of our customers.
Whether you have a new project or old equipment that needs to be optimized, we welcome the opportunity to show you how the Admix advantage can provide superior solutions to your mixing operations.
The Company

Business Consulting, HR and Training, Transport and Logistics
Many of the online directories focus towards one market segment or audience profile. Here, we target the "best in class" for each of the served markets by industry leaders in their respective fields. Find a category that you feel is most relevant to the content of your site, or that attracts a customer demographic you wish to reach. Provide a title and URL and submit to this directory.
Corporate Business
Business web directory and online Internet marketing center, offering powerful promotion opportunities to your business and website. Maximize traffic to your website by submitting to the directory. Categorized in 7 main groups, including Consulting, Manufacturing, Internet Services, Professionals, Health, Pharmaceutical, Software & Telecommunications and Transportation.
Business Consulting
HR & Training
Construction
OPEN
Transport & Logistics
Business Consulting
HR & Training
Construction
Transport & Logistics
business directory | corporate, financial & education directory | real estate & search engine directory | manufacturing directory | software, non-profit & retailers directory | company directory
234 Abby Road
Manchester, NH 03103
800.466.2369