Business Consulting, HR and Training, Transport and Logistics
Many of the online directories focus towards one market segment or audience profile. Here, we target the "best in class" for each of the served markets by industry leaders in their respective fields. Find a category that you feel is most relevant to the content of your site, or that attracts a customer demographic you wish to reach. Provide a title and URL and submit to this directory.
Corporate Business
Business web directory and online Internet marketing center, offering powerful promotion opportunities to your business and website. Maximize traffic to your website by submitting to the directory. Categorized in 7 main groups, including Consulting, Manufacturing, Internet Services, Professionals, Health, Pharmaceutical, Software & Telecommunications and Transportation.
Business Consulting
HR & Training
Construction
OPEN
Transport & Logistics
Business Consulting
HR & Training
Construction
Transport & Logistics
business directory | corporate, financial & education directory | real estate & search engine directory | manufacturing directory | software, non-profit & retailers directory | company directory

The WILEVCO RESERVE TANK is a low-volume reservoir designed for continuous filtering or for supplying batter to two applicators from one mixer. Compact and ruggedly constructed, the RESERVE TANK has three basic pump options available with electric or hydraulic drive. Easily modified with multiple pumps and other configurations, the RESERVE TANK may also be used for metering proprietary liquids and special ingredients into the mixed batter.

To receive further information or pricing on a specific product or a system which incorporates any of these products, please click here. To speak directly with a representative, please call us at 978-667-0400 between 8:00AM and 4:30PM EST. For a budget quotation, please click here.

home | products | lease program | contact
downloads | quick quote | news | map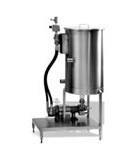 "WILEVCO impressed
us with their engineereing
expertise and ability
to determine the best
solution for us"
- A. Client
McDonald's