CitraTest VU Load Test Configuration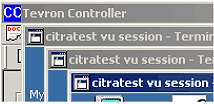 CitraTest VU Load Machine
Generates load on the servers-under-test by playing the CitraTest VU Scripts.
---

Server(s)-Under-Test
Citrix MetaFrame, NFuse, Microsoft Terminal Services, etc...
---

CitraTest Measurement Machine
CitraTest scripts measure the on screen End-to-End response times in the client GUI while the VU scripts play back.
---
Configuring the CitraTest VU Load Machine
The CitraTest VU Load Machine is a server configured with Windows 2003 Server or Windows 2008 Server (32-bit and 64-bit). The scripts on the CitraTest VU Load Machine execute from the real user perspective, meaning they interact with the actual client GUI. Each CitraTest VU script executes on its' own "desktop" and opens its' own client connection to the server(s)-under-test, just as a group of real users would.