EDUCATION AT MRT!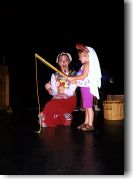 There are three ways to learn at MRT: by Instruction, by Experience, and by Uncovering what we already know. Uncovering existing knowledge actively engages the student who in turn actively pursues Instruction and Experience. MRT's diverse education programs provide students of all ages with the necessary tools to Uncover their unique knowledge about themselves, about the world and, importantly, about their existing relationship to the theatre arts.
Our educational mission is to "engage, inspire and instruct" and we do that with voices that celebrate and illuminate the human spirit. The art of the theatre is a cross-cultural, multi-generational, and life-long learning experience. Our Student Matinee Series is the only professional program in the region for introducing young people to classical and contemporary playwrights with the highest caliber of productions. The Partners in Education program provides area school systems with three years of free play-going, transportation, Guest Artists and curriculum support materials. Young Artists at Play offers workshops all year-round for students 5-18 to learn something new or to hone their nascent skills. Indeed there's something for everyone at MRT!
We hope you'll find the answers to your questions while visiting our website. If we can be of any further help, please call the Education Department at 978-454-6324 or email us at mrtlowell@aol.com.
student matinees | classes | outreach programs | educational resources | email us

Our Theatre | Reaching Us | MRT News | Education | Ticket Sales | Product Sales
Contributions | Contact Us | Back Home