The New Century Series is a two-year undertaking unlike any other in the history of American Regional Theatre. Fourteen plays in total, chosen to represent the ten decades of this most exciting 20th Century as well as taking a provocative look at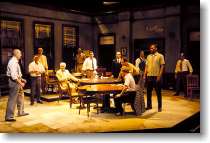 the possibilities that lie ahead, are yours exclusively through membership in this cutting edge series. A program that also includes two world premiere productions, four regional premieres, and a play about the nature of time itself. This ambitious 24 month long adventure is a perfect ode to the strength of character, the pure "pluckishness", of our theatre and this audience. No theatre in the country has ever even thought of such a series. But then again, where most theatres remain indifferent to the shared concerns of the voices in their community, MRT offers real muscle in its resident mission to invigorate the experience of meaning in our lives.
If all this sounds new for Merrimack, it is, just like everything at Merrimack has been stunningly new for the past two decades. This is a theatre company with a vision. Risk, innovation, and surprise still feed our spirit every moment of the day and they continue to drive the diverse and profound range of accomplishments and awards we continue to assemble.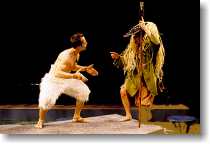 The New Century Series is, perhaps, our most unique remaking, our most unique new challenge. But it is also our best celebration, to date, of the indomitable cultural forces, talents and personalities that make Merrimack a true child of this New England region. Merrimack, like the art form of theatre itself, believes in action and the New Century Series is our way of saying that we are not losing our future to some unconcerned, ill-willed sense of fate as we enter the next Millennium. We are the future. What we bring with us, who we are, where we've been – these will all connect us to the fabric of tomorrow. Theatre, like life itself, is about energy, compassion, and imagination.
The plays of the New Century Series were chosen with a belief that they could expand our understanding about how real theatre is. Some of the plays will use our space more symbolically, going from washes of chronological time to small pinpoints of human contact. Some of the plays will present characters of almost mythic proportions, mixing magic and fantasy with wrenchingly real and monumental stories. And some of them will offer clear passage between the divine and the everyday. But all of the plays in the New Century Series are stories that belong to us personally and will, I hope, be around for another 100 years.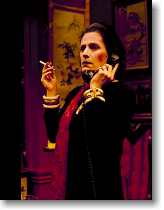 Despite all the newness of this exciting Series, one thing will remain constant at Merrimack: the way we invite the spectator to participate on every emotional and intellectual level imaginable. Theatre needs imagination and energy. At Merrimack we believe audiences want more than the aridness of empty artistic technique or conceits for the sake of the artist alone. On our stage, truth is an intimate and personal mix of epic, narrative and presentational styles that allow us to commute freely from classics to contemporary scripts with the actor/artist at the heart of the work, saying "touch me, I'm real…what you are seeing is real." Just like our upcoming adaptations of Five Thousand Days Like This One and Rebecca's World, our work will continue to remind us why the theatre has meaning.
Merrimack's work and the courageous spirit behind a program like the New Century Series will always be an inherent challenge to any notion of a mean spirited world. The New Century Series is as constant an echo of the ongoing reality and aesthetic that speaks to the promise and remaking that art endows us with. Like the characters in The Rainmaker, Defying Gravity, and Joe Turner, faith in the natural world and the values centered on such a world order will ultimately nourish the land, our soul, and our hearts.
In spite of all the ads, signs, slogans, and gadgets that are being created to sell us the new Millennium, nothing can lift your spirits, fire your imaginations, and stir your souls in quite the same way as live performance. Please join the artists and me at Merrimack in the very best Centurion passage of surprise, wonder, and great performance.
David G Kent
Producing Artistic Director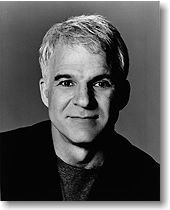 Steve Martin – Honorary Chairman of the New Century Series:
"The New Century Series at MRT is an extraordinary and unique way of acknowledging what we've accomplished as a society over the past hundred years. Theatre has the distinct advantage of offering an audience vital and immediate clues about human nature from which we can learn and change."
Our Theatre | Reaching Us | MRT News | Education | Ticket Sales | Product Sales
Contributions | Contact Us | Back Home
Photo Credits:
The Cast of TWELVE ANGRY MEN
David Paluck & Dan Snook in A MIDSUMMER NIGHT'S DREAM
Geraldine Librandi in FULL GALLOP
Photos by Eric Antoniou