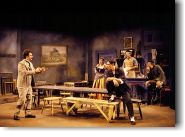 Merrimack Repertory Theatre's family of donors is vital to the Theatre's strength and longevity. Each season we must raise nearly 40% of our operating budget from individuals, businesses and foundations. Our donors understand the unique role MRT plays in the cultural life of the community. Our donors make it possible for nearly 10,000 students from throughout the region to attend a performance at MRT each season-at little or no cost to them or their schools. Our donors make it possible for us to welcome over 3,000 seniors to attend special scheduled performances and discussions in conjunction with Elder Services of the Merrimack Valley. Most of all, our donors have enabled us to conceive of a vision like the New Century Series that has projected this theatre into the national spotlight.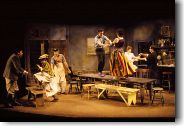 Join us today on the pathway into the new millennium by making an investment in Merrimack Repertory Theatre. Contact the Development Department at 978-454-6324, x.228 and make your tax-deductible contribution. Help us to grow MRT's leadership in accessibility, world-class theatre and community outreach.
Giving Levels:
Contributor ($35+)
Supporter ($100+)
Partner ($250+)
Patron ($500+)
Director ($1,000+)
Producer ($2,500+)
Benefactor ($5,000+)
Merrimack Repertory Theatre offers its Corporate investors a firm value for their dollar. We provide your business with recognition, marketing opportunities, and a positive image association. The marketing benefits offered to our Corporate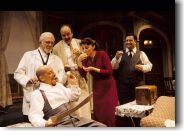 contributors are tangible and the dollar value is easily measured. Different marketing programs can be tailored to meet your needs and provide you with the recognition you deserve. When you become a partner with Merrimack Repertory Theatre, you share our spotlight. Contact our Development Department at 978-454-6324, x.228 and learn more about the exciting opportunities available at MRT.
Our Theatre | Reaching Us | MRT News | Education | Ticket Sales | Product Sales
Contributions | Contact Us | Back Home
Photo Credits:

Photos by Eric Antoniou